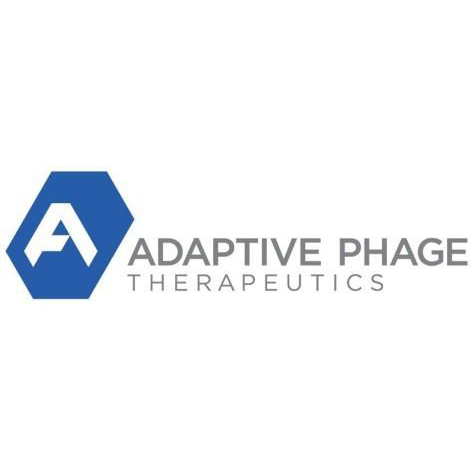 GAITHERSBURG, MD, September 30, 2021 – Adaptive Phage Therapeutics, Inc. (APT), a clinical-stage biotechnology company dedicated to providing therapies to treat infectious diseases, today announced that the Department of Defense (DoD) has awarded the company an additional $8 million for the continued development of bacteriophage therapies (PhageBankTM) for the treatment of infectious diseases. The new funding brings the total contract awarded to APT to $31.2 million.
"We are thrilled to have the ongoing support of the DoD in the advanced development of our PhageBank™ platform to treat drug-resistant infections across multiple indications," said Greg Merril, CEO and co-founder of Adaptive Phage Therapeutics.  "We are thankful for the opportunity to collaborate with the U.S. military to create potentially lifesaving therapies for our nation's service members."
Adaptive Phage Therapeutics, Inc.
Adaptive Phage Therapeutics (APT) is a clinical-stage company advancing therapies to treat multi-drug resistant infections. Prior antimicrobial therapeutic approaches have been "fixed," while pathogens continue to evolve resistance to each of those therapeutics, causing those drug products to become rapidly less effective in commercial use as antimicrobial resistance (AMR) increases over time.
APT's PhageBank™ approach leverages an ever-expanding library of bacteriophage (phage) that collectively provide evergreen broad spectrum and polymicrobial coverage. PhageBank™ phages are matched through a proprietary phage susceptibility assay that APT has teamed with Mayo Clinic Laboratories to commercialize on a global scale.
APT's technology was originally developed by the biodefense program of U.S. Department of Defense. APT acquired the world-wide exclusive commercial rights in 2017. Under FDA emergency Investigational New Drug allowance, APT has provided investigational PhageBank™ therapy to treat more than 40 critically ill patients in which standard-of-care antibiotics had failed.
For more information, visit http://www.aphage.com.
Adaptive Phage Therapeutics
Investor Relations:
Gilmartin Group, LLC.:
Laurence Watts
laurence@gilmartinir.com
619-916-7620