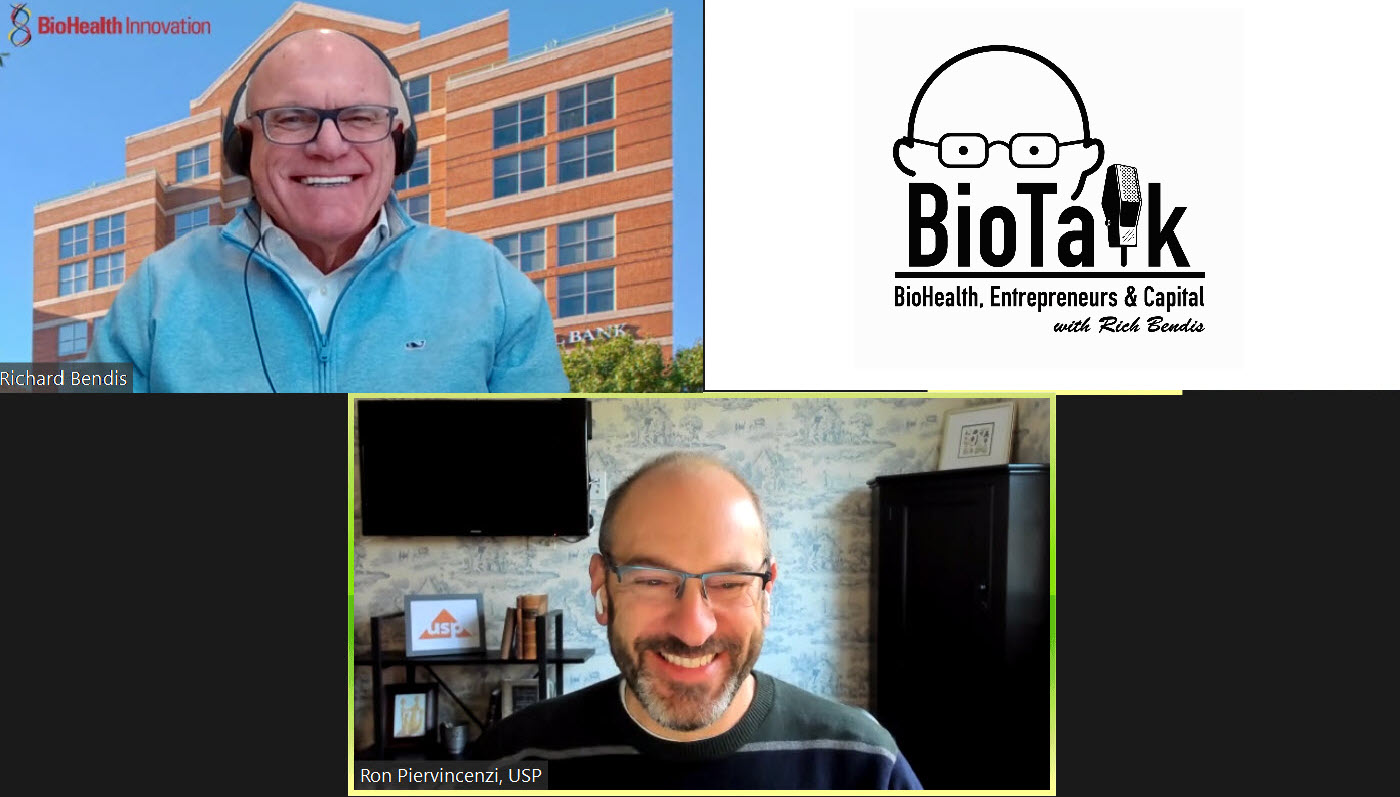 Ron Piervincenzi, Ph.D., CEO of United States Pharmacopeia, sits down with host, Rich Bendis, to discuss USP's growth since his last visit, the nature of their organization, and plans on hosting the 2022 BioHealth Capital Region Forum in person at their beautiful building in Rockville, Maryland.
Listen now via Apple https://apple.co/3JpVTHB, Google https://bit.ly/3JnJfsI, Spotify https://spoti.fi/3JoLig7, and TuneIn https://bit.ly/3BhNcfE.
Ronald T. Piervincenzi, Ph.D., has served as Chief Executive Officer of the United States Pharmacopeia since February 2014. Dr. Piervincenzi provides strategic leadership to USP's global staff of over 1,300 across sites in the US (Rockville, Frederick, D.C.), India, China, Ghana and Switzerland, and global public health field offices including Nigeria, Indonesia, Ethiopia, and Kenya. His transformative vision has launched key USP initiatives in bringing quality across the healthcare spectrum, upholding USP's reputation as a quality leader since its founding in 1820. Under his leadership, USP has modernized its operations and launched innovative new science, including in the areas of digital medicine, cutting-edge manufacturing technologies and advanced biologics. More recently, USP has begun building a robust "capability building" services suite of offerings including quality manufacturing consulting, donor-funded work, and education. Dr. Piervincenzi served as Chair of the Council of Experts, USP's scientific standards-setting body of 24 Expert Committees and over 750 standards-setting experts until June 2015, when he transferred this responsibility to USP's new Chief Science Officer.
Dr. Piervincenzi brings more than 20 years of industry experience across pharmaceutical sciences, research and business strategy. Before joining USP, Dr. Piervincenzi served as Vice President of Development Sciences with Biogen Idec, Inc., where he designed and launched Biogen's value-based medicine group focusing on applying tools and technologies of personalized medicine in the treatment and management of multiple sclerosis. Dr. Piervincenzi was a partner and leader in McKinsey & Company's global pharmaceutical and medical products practice for over 12 years. In this capacity, Dr. Piervincenzi launched McKinsey's global drug safety, medical and regulatory service line. With McKinsey, Dr. Piervincenzi also led the global research and information analytics team, managing staff in New Jersey, London, Brussels, and India.
Dr. Piervincenzi earned his M.S. and Ph.D. from Duke University in Biomedical Engineering, with research focused on protein engineering. He is the proud co-founder and chairman of the board for MENTOR Newark.