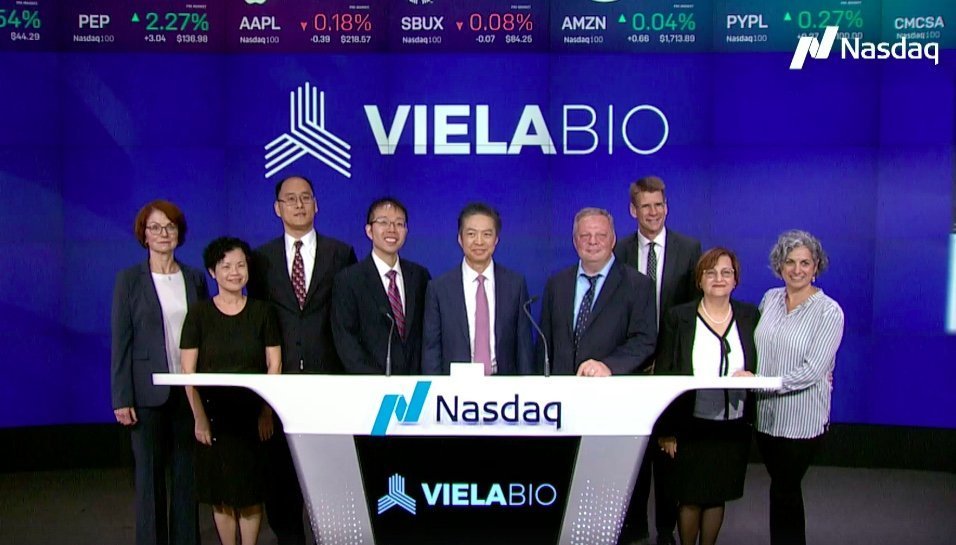 October 3, 2019
It has been just 20 months since Viela Bio was founded and today Viela Bio CEO Bing Yao, surrounded by colleagues and family, rang the opening Nasdaq bell to begin their first day of trading (NASDAQ: VIE).
Their journey to IPO included more than $350 million of equity investment since its launch that fueled a rapidly advancing clinical pipeline. An experienced management team, a strong company culture, a relentless pursuit of the science and a foremost commitment to bringing new treatments to their patient community as soon as possible are the hallmarks of a company that has accomplished so much in such a short period of time.
Viela's share price opened at $19 this morning, followed by a day of trading that did not disappoint investors. After reaching a high of $25.40 during the day, the stock closed 23% above its initial share price at $23.41.
The offering is set to close on October 7th resulting in a raise of around $150 million for the clinical-stage biotech and its investors. For AstraZeneca, Viela's biggest shareholder who owns more than 14.2 million shares of common stock (38%), according to SEC filings, the day also brings validation to the spin-out deal that was executed nearly two years ago under, then MedImmune President, Bahija Jallal. Jallal was present for today's ceremony.
Watch the opening bell ceremony live:
In CEO Bing Yao's statement at the Nasdaq opening, he shared the following remarks:
"When the opportunity was presented to found Viela, spinning out of AstraZeneca, MedImmune. We understood the great responsibility ahead of us to bring this promising portfolio of autoimmune disease therapies.

We began our journey with a sharp focus on the underlining causes of autoimmune disease. Novel approaches like ours are paramount as there are over 23 million people in the US alone living with autoimmune illnesses. Currently, available therapies are rarely considered curative and many patients experience disease progression. We must do better.

In a year and a half we have assembled a team of world-class professionals who have worked tirelessly to advance our lead product inebilizumab. While its' currently under review for approval, we are confident of its potential treat patients with AMO, a rare condition that attacks optic nerve, spinal cord and brain stem and often leads to blindness and paralysis.

Beyond AMO our team continues to innovate therapies. We believe it has the potential to target a large range of different types of autoimmune conditions. This tremendous progress is due to our experienced management team and gifted employees that I have the distinct honor to call my colleagues. I would also like to thank our investors and Board of Directors. Their support and commitment made it possible to get to this day in our companies history.

We are humbled by the importance of the work in front of us, and really excited by the potential to deliver treatments to patients who suffer from autoimmune conditions."

Viela Bio CEO, Bing Yao
Click here to read more via BioBuzz