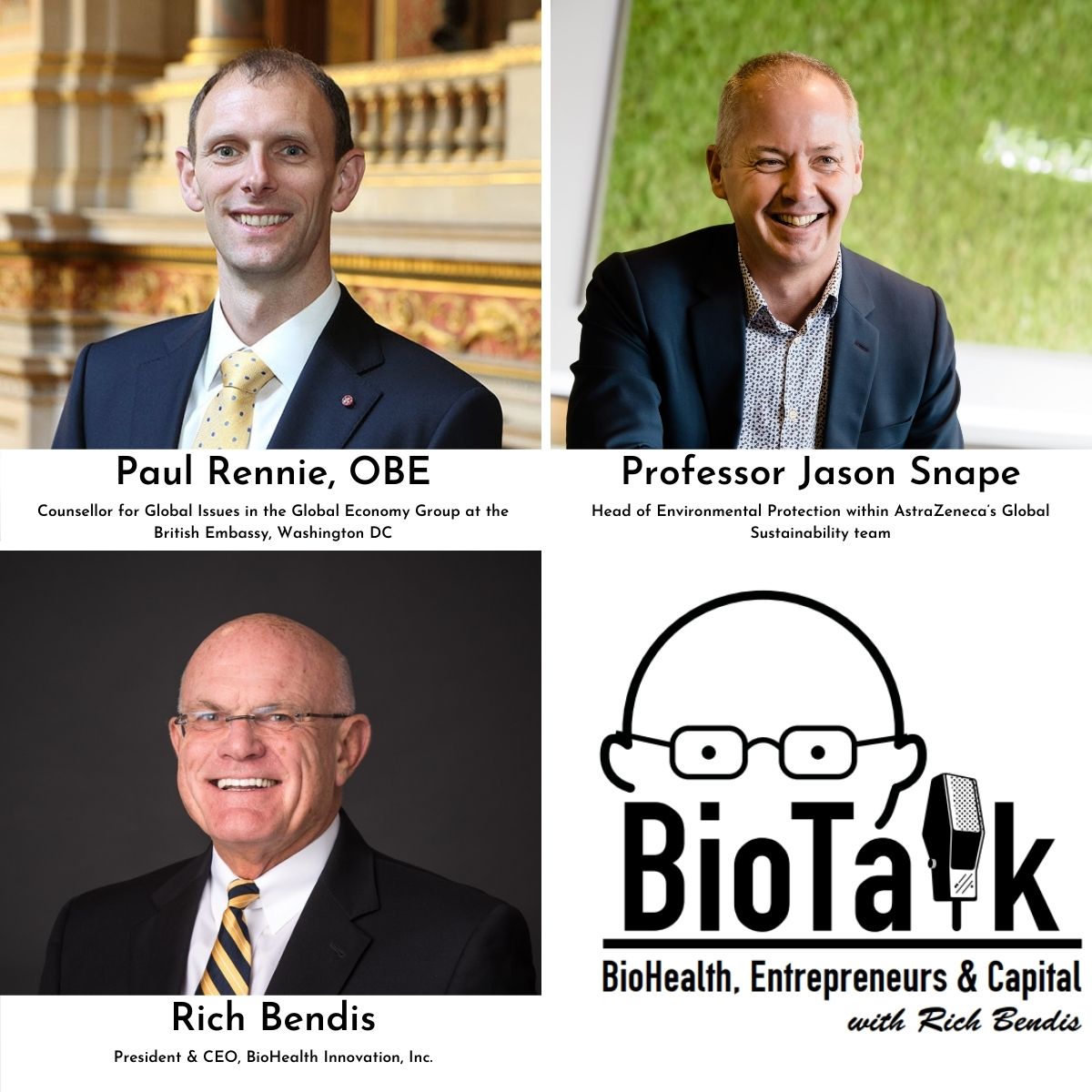 Paul Rennie OBE, Counsellor for Global Issues in the Global Economy Group at the British Embassy, Washington DC, and Professor Jason Snape, Head of Environmental Protection within AstraZeneca's Global Sustainability Team, join Rich Bendis to Discuss Life Sciences, Climate Change, COP26 – UN Climate Change Conference, and The Race to Zero Campaign.
Listen now via Apple https://apple.co/3ls3EEp, Google https://bit.ly/3liTlSU, Spotify https://spoti.fi/3ylxair, and TuneIn https://bit.ly/3rS9Giz.
Paul Rennie, OBE, is the Counsellor for Global Issues in the Global Economy Group at the British Embassy, Washington DC, leading the UK's climate and energy, economic and trade, and science and technology networks across the United States. Prior to that, he led the Foreign Office's strategic transformation programme, focused on delivering a 21st century Diplomatic Service. Paul was born in Edinburgh and educated at George Heriot's School, before going on to graduate with an MA in Economics and Politics (Edinburgh University) and an MSc in Economics (York University). He joined the Foreign and Commonwealth Office in 2001 as the first of a new group of Diplomatic Service Economists. He has served at the United Nations (New York), Brazil, India and Malaysia, as well as working on secondment to the Cabinet Office and the Department for International Development. In addition to his economic work, Paul speaks five languages (English, French, Dutch, Portuguese and Hindi).
Professor Jason Snape is the Global Head of Environment within AstraZeneca's Global Sustainability Team. Accountable for delivering AstraZeneca's global ambitions to drive natural resource reduction (ambition zero carbon, water and waste reduction) and ensure the environmental safety of pharmaceuticals throughout their lifecycle (product environmental stewardship and pharmaceuticals in the environment). Member of the AstraZeneca UK Leadership Team.  Chair of the European Federation of Pharmaceutical Industry Associations (EFPIA), Medicines for Europe, and AESGP working group on the environmental risk assessment of human medicinal products. Recognized scientific leader and opinion former with >6000 citations from approximately 50 publications. Honorary Clinical Professor at the University of Warwick and a Professor of Environmental Engineering at the University of Newcastle.  Member of the University of York's Environmental Sustainability Advisory Board.  Co-chair the Society of Environmental Toxicology and Chemistry (SETAC) Pharmaceutical Advisory Group.