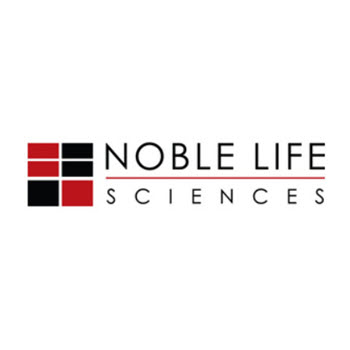 Sykesville, MD, and Fairfax, VA, December 21, 2020 – Noble Life Sciences (NLS), a preclinical contract research organization located in Sykesville, MD, has signed a Collaboration Agreement with George Mason University (Mason) to access the National Center for Biodefense and Infectious Diseases (NCBID) BSL-3 facility located within their Biomedical Research Laboratory at Mason's Science and Technology Campus in Manassas. The Agreement enables NLS to perform federal and non-federally funded BSL-3 animal model projects to support the development of new antiviral and antibacterial agents against infectious and resistant pathogens.
Additionally, NLS and Mason have agreed to explore collaborative research opportunities in the following areas
Development of animal models for viral diseases.
Development of animal tissue-based and cell culture-based assay methodologies for the assessment of the efficacy of vaccines and therapeutics for viral agents.
Assay and reagent development for quantification of viral RNA and/or protein.
"Access to the BSL-3 facility through this collaboration agreement with Mason will enable NLS to provide preclinical testing services in support of an immediate need for the development of coronavirus vaccines and therapeutics as well as other emerging infectious diseases," said Srujana Cherukuri, Chief Executive Officer at NLS
"The collaboration with Noble Life Sciences opens doors to new opportunities for the development of novel therapeutics and diagnostics by Mason scientists and enables us to partner with an entity that has extensive experience bringing such new discoveries to the marketplace," said Ali Andalibi, Chief Scientific Officer of the BRL and Senior Associate Dean in Mason's College of Science
About Noble Life Sciences: NLS is a preclinical contract research organization (CRO) owned and operated by scientists with decades of experience in drug, vaccine, and medical device development. The company provides integrated GLP and non-GLP preclinical services designed to accelerate development of vaccines and therapeutics in the areas of cancer and infectious diseases.  NLS offers services in pharmacology, disease models, early safety assessments, toxicology, PCR, Flow Cytometry, in vivo imaging, and cell-based assays. Learn more at www.noblelifesci.com
About George Mason University: Mason is an educational institution and agency of the Commonwealth of Virginia. Mason's Biomedical Research Laboratory's state-of-the-art biocontainment laboratory leverages the tools of molecular biology proteomics and nanotechnology for the development of diagnostics, therapeutics, and vaccines for emerging and potential biothreat agents. The facility is fully approved and licensed for work by the Center for Disease Control and Prevention (CDC), the U.S. Department of Agriculture (USDA), and fully accredited by the Association for Assessment and Accreditation of Laboratory Animal Care (AAALAC). Learn more at ncbid.gmu.edu