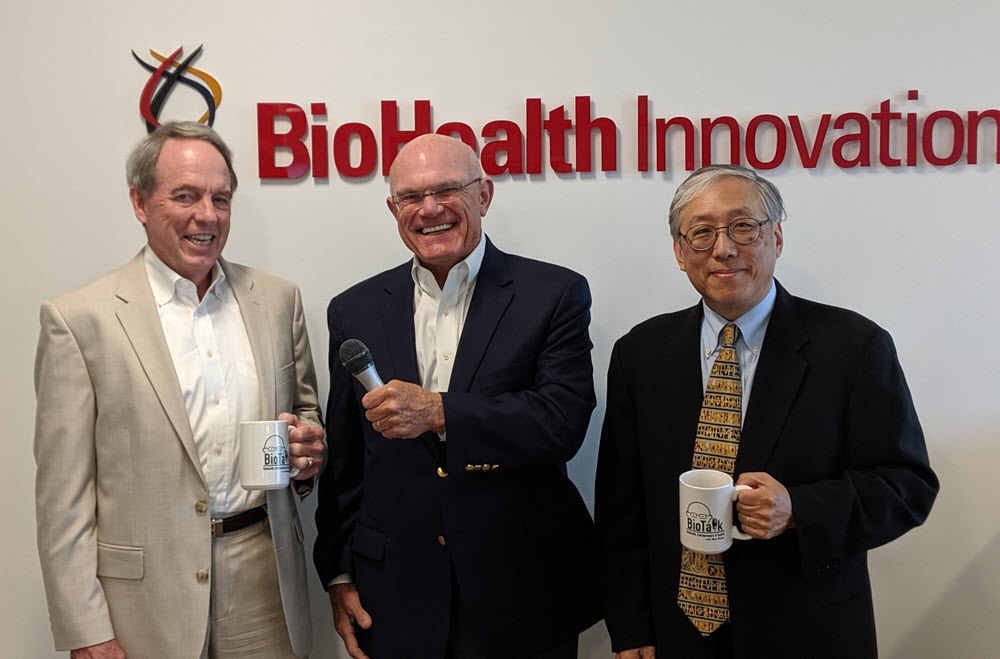 Dr. Zan Fleming, M.D. and Thomas Seoh of Kinexum join Biotalk host Rich Bendis to discuss the company, Metabesity, and their upcoming 2019 Conference in Washington, DC
Listen now on Google Podcasts http://bit.ly/2kaI8Xt, iTunes https://apple.co/2kc7jsG, and TuneIn http://bit.ly/2lMk79l
Dr. Alexander Fleming is Founder and Executive Chairman of Kinexum, a company with diverse expertise in developing drugs, biotech products, medical devices and digital health technologies. He is also Executive Vice-President of Tolerion, a biotechnology company developing disease-modifying treatments for type 1 diabetes and other autoimmune diseases. Dr. Fleming received his M.D. and internal medicine training from Emory, fellowship training in endocrinology at Vanderbilt and metabolism at National Institutes of Health, where he was a senior fellow.
At the US Food and Drug Administration from 1986-98, Dr. Fleming was responsible for the therapeutic areas of diabetes, other metabolic and endocrine disorders, growth and development, nutrition, lipid-lowering compounds, and reproductive indications.  He led reviews of landmark approvals including metformin and the first statin, insulin analog, PPAR-agonist, and growth hormone for non-GH deficiency indications. He conceived and directed the first FDA pilot project to utilize the internet for regulatory communication and represented FDA on the expert working groups for Good Clinical Practices and General Considerations for Clinical Trials of the International Conference on Harmonisation (ICH) and participated on other ICH committees including the Common Technical Document working group.
Dr. Fleming remains active in supporting the development of diabetes-related preventions, treatments, devices, and digital technologies.  He serves on the joint technology working groups of the European Association for the Study of Diabetes and American Diabetes Association.
Thomas Seoh is President and CEO of Kinexum, a strategic advisory firm that provides regulatory, clinical, CMC and other translational guidance for life science product development.  He is an entrepreneur/executive who has held senior leadership positions in public and private pharmaceutical, biotech and medical device companies for over 25 years.
Mr. Seoh began his career as a corporate attorney in New York and London, then assumed legal management positions with the Consolidated Press group in Livonia, MI, then the ICN Pharmaceuticals group in Costa Mesa, CA.  He next became VP, General Counsel and Secretary, and later, SVP Corporate and Commercial Development, of Guilford Pharmaceuticals, a NASDAQ-listed company in Baltimore which commercialized GLIADEL® wafer for glioblastoma multiforme and developed the propofol pro-drug LUSEDRA® and small molecules for Parkinson's disease.  He then became CEO of venture-backed Faust Pharmaceuticals in Strasbourg, France, with a repurposed compound in Phase II for Parkinson's patients, a re-positioned molecule for Duchenne muscular dystrophy and a GPCR drug discovery platform.
Mr. Seoh subsequently served in leadership positions of medical device startups developing an ex vivo liver dialysis device, a novel mechanical thrombectomy device for Deep Vein Thrombosis and stroke and a state-of-the-art neurocatheter, and a plant-based skin substitute wound dressing.  He has served on industry-university advisory boards at Johns Hopkins School of Medicine and the University of Maryland Baltimore County.  He holds an AB in Philosophy and History and a JD from Harvard University.