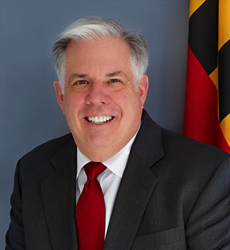 When Maryland Gov. Larry Hogan stepped up to address a crowd of more than 1,000 life sciences executives and entrepreneurs on Wednesday, he couldn't help but take the moment to remember his own brush with their work.
In 2015, the then-new governor was diagnosed with non-Hodgkin's lymphoma.
More than a year and a half since reaching remission, he is still cancer free, he told the BioHealth Capital Region forum. The two-day conference at MedImmune's headquarters in Gaithersburg was held to promote collaboration across Greater Washington between biotechs, drug companies, data firms, universities and startups to create a top industry cluster in the nation by 2023.
"This mission is a very personal one to me," Hogan said. "I went from being focused on how to grow our economy and put people back to work to hearing doctors that I'd just met for the very first time tell me I had a very advanced and aggressive cancer and it'd spread all throughout my body."
---
Related story: Group pushes forward on branding effort for Washington region as biotech leader
---
In the following months, he said he underwent aggressive chemotherapy, three surgeries, spinal taps and scans, as well as immunotherapy treatments.
Hogan said he had the opportunity to meet other families with tougher cancer struggles during his treatment and promised to use that inspiration to support those fighting the disease across the state. He promised to increase access to capital and support for workforce development for the industry — telling them "with me as governor you will have a friend fighting in Annapolis" — although he stopped short of making any specific commitments.
"I can tell you firsthand there is no place better in the world to go through and undergo cancer treatment than right here in the state of Maryland. We have such incredible medical facilities and so many talented people," he said. "We're incredibly proud to be home to such a growing and thriving life sciences industry and I want to thank each and every one of you for the work you do each and every day."