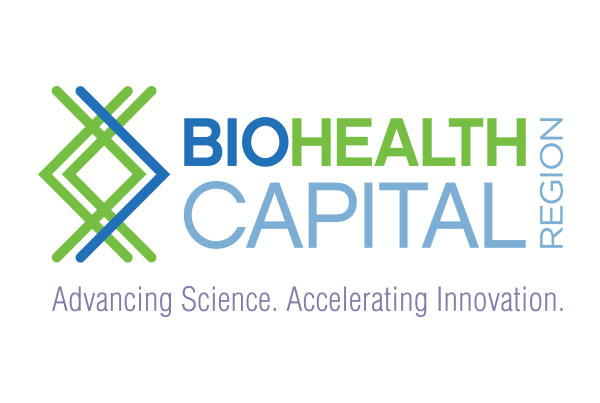 4. BioHealth Capital Region [Maryland/Virginia/Washington, D.C.]
Well before COVID-19 wreaked havoc on the world, the Maryland/Virginia/Washington, DC "BioHealth Capital Region (BHCR)" had the building blocks of a region well-positioned against infectious disease. Baltimore-based Johns Hopkins University received nearly half the region's total NIH basic research funding. In Gaithersburg, MD, COVID-19-focused vaccine developers with substantial operations include AstraZeneca, Emergent BioSolutions—and Novavax, whose expansion plans were announced during a visit by Maryland Gov. Larry Hogan (R).
Maryland Gov. Larry Hogan [2d from left] chats with Gale Smith, PhD, Novavax Discovery and Preclinical Research and Chief Scientist, during a tour of the company's Gaithersburg, MD, facilities. [Office of Governor Larry Hogan]
Bethesda, MD, is home to the FDA and NIH—and its National Institute for Allergy and Infectious Disease, whose director led by Anthony S. Fauci, MD. Northern Virginia will soon be home to Drugviu, developer of a real-world evidence and patient-reported outcomes platform for immunological research, which is moving from New York City. In Richmond, VA, Phlow won up to $812 million over 10 years from the Biomedical Advanced Research and Development Authority (BARDA) in May toward manufacturing generic COVID-19 therapeutics. BHCR companies racked up more than $5.8 billion in awards from BARDA toward COVID-19 vaccines and drugs.Ceres Nanosciences of Manassas, VA, plans to add 50 jobs by increasing its manufacturing capacity for COVID-19 testing, Virginia Gov. Ralph Northam said March 3. Gene therapy developer Vigene Biosciences said it will more than triple its 125-person staff by adding 245 employees as it doubles its manufacturing footprint in Rockville, MD, where the company last year opened its HQ, R&D, and manufacturing sites.
BHCR is 60% toward its goal of becoming a top-three cluster by 2023. The region is already third in NIH funding (4,051 awards totaling just over $3 billion), patents (6,015) and lab space (29.7 million square feet, according to JLL)—with almost 3 million new square feet under development or planned. The region places sixth in jobs (74,542 as of March, according to JLL), and seventh in venture capital ($1.677 billion, according to Crunchbase, GlobalData, and JLL).
Click here to read more via Gen.