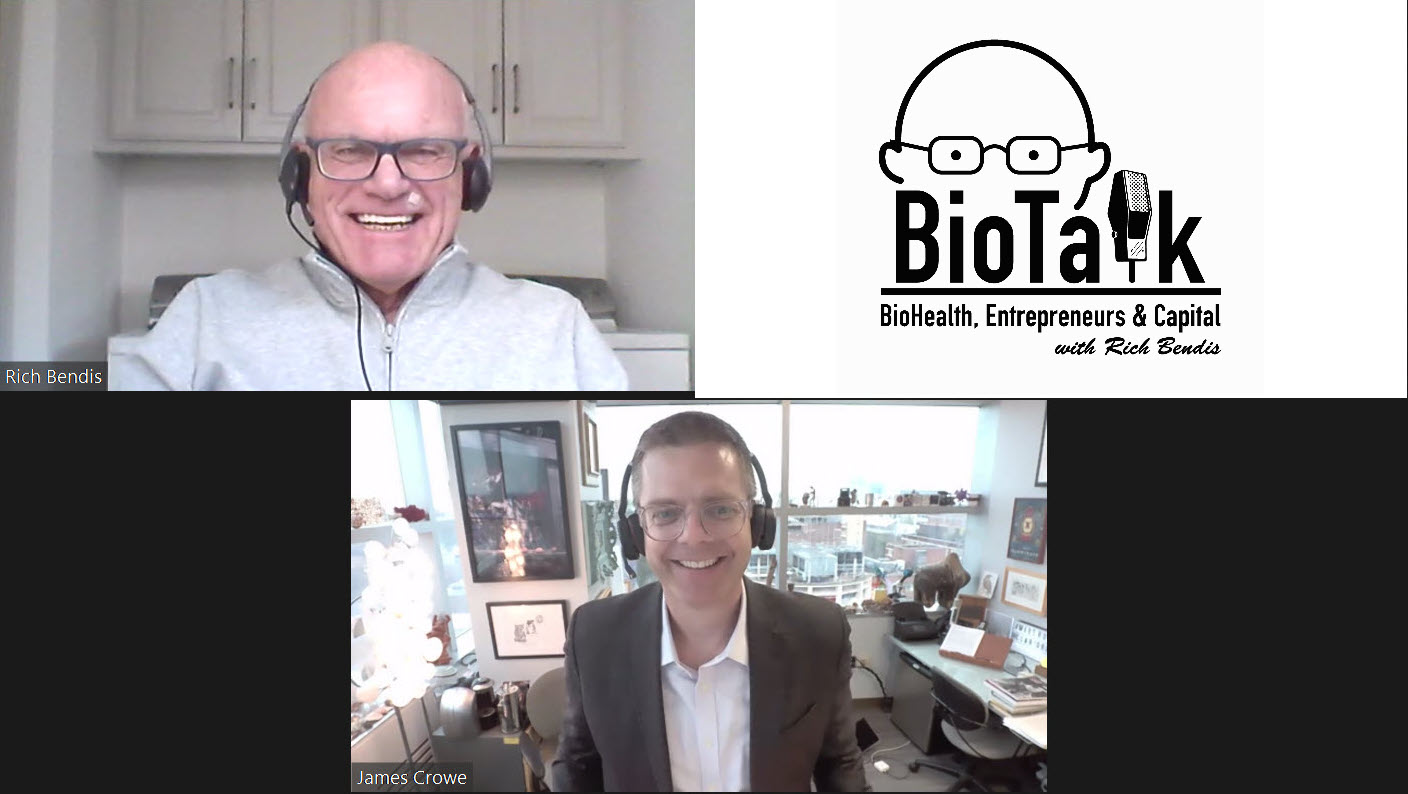 BioTalk Media Award-Winning Podcast BioTalk Welcomes Dr. James Crowe, Director, Vanderbilt Vaccine Center, Professor, Pediatrics and Pathology, Microbiology and Immunology, Ann Scott Carell Chair and Founder of ID Biologics.
Listen now on Apple http://apple.co/34u0kz6, Google http://bit.ly/38jfE2I, Spotify http://spoti.fi/3pddVme, and TuneIn http://bit.ly/37D2M8z.
His laboratory has a broad portfolio of work in the area of viral immunology and antibody sciences, with the goal to discover mechanisms of immunity important to developing new therapeutics and vaccines.
Dr. Crowe received his MD degree from the University of North Carolina at Chapel Hill, where he also completed his pediatrics residency. Following his clinical training, Dr. Crowe received five years of post-doctoral training in the laboratory of Infectious Diseases at the NIH. He completed infectious diseases fellowship training in 1996 at Vanderbilt and has run an independent laboratory at Vanderbilt since that time. He is currently Professor of Pediatrics and of Pathology, Microbiology and Immunology, and the Ann Scott Carell Chair, Vanderbilt University Medical Center.
The laboratory's work has been published in over 300 publications in high-quality science journals including Cell, Science and Nature and leading medical journals including the New England Journal of Medicine and JAMA.
Dr. Crowe was elected to the National Academy of Medicine in 2014 and National Academy of Inventors in 2017. He has been the recipient of investigator awards from the March of Dimes, American Society for Microbiology, Pediatric Infectious Diseases Society, and Society for Pediatric Research. He was awarded the Judson Infectious Daland Prize of the American Philosophical Society, the Oswald Avery Award of the IDSA, the E. Mead Johnson Award for Excellence in Pediatrics, the Outstanding Investigator Award of the American Federation for Medical Research, the Norman J. Siegel Award of the American Pediatric Society, the Samuel Rosenthal Prize for Excellence in Academic Pediatrics, the Stanley J. Korsmeyer Award of American Society for Clinical Investigation, the Distinguished Medical Alumnus Award from UNC School of Medicine, Chapel Hill, NC. He is an elected Fellow of AAM, AAAS, ASCI and AAP, IDSA, APS, and others. His research team was selected as Best Academic Research Team at the 11th Annual Vaccine Industry Excellence Awards. He was awarded the inaugural 2019 Merck Future Insight Prize, a 1M Euro prize shared with Pardis Sabeti.
He is the Founder of IDBiologics, Inc., an early stage biotech company developing human monoclonal antibodies for infectious diseases.