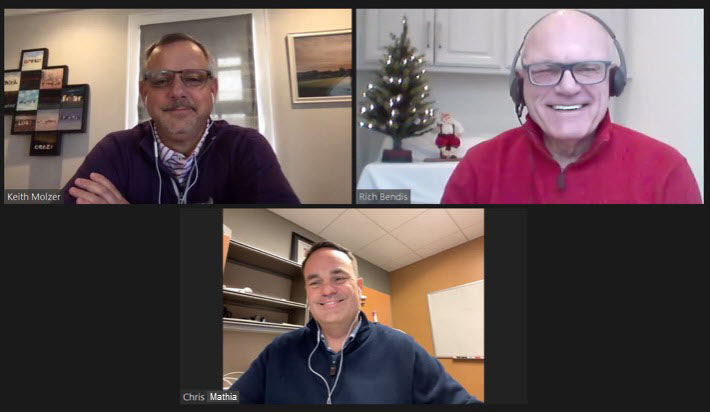 While home in Kansas City for the season, BioTalk host Rich Bendis virtually sits down two local business leaders. Innar Health CEO, Chris Mathia, and Flyover Capital Managing Partner, Keith Molzer chat about the opportunities and challenges of BioHealth and Fund-Raising in Middle American.
Listen now via Google http://bit.ly/39ikNss, Apple http://apple.co/3shRRtk, Spotify http://spoti.fi/39ocgUz, and TuneIn http://bit.ly/2XvT0za.
A Kansas City, Kansas native, Chris Mathia joined Innara Health as Vice President of Sales in October of 2017. He was promoted to Chief Executive Officer in May of 2019 and brings 20+ years of healthcare sales and leadership experience to the Innara team. Throughout his career, he has focused on building client confidence, improving the client experience, and increasing overall client satisfaction and reference ability.
Prior to joining Innara, Chris served in various sales and leadership roles with Perceptive/Hyland Software, Cerner Corporation, Thompson Reuters, and Medline Industries. Chris received his bachelor's degree in Political Science from the University of Kansas.
From working on his grandparent's farm in Nebraska to becoming a serial entrepreneur, getting his hands dirty is in Keith's DNA.   Keith has been an entrepreneur for more than 35 years, starting a variety of companies in the Kansas City region.
Prior to co-founding Flyover Capital in 2014, Keith Molzer founded Balance Innovations in 2004 and built the company into the leading developer of cash office software solutions for the retail industry (acquired by Brinks). Prior to founding Balance Innovations, Keith founded in worked with several other start-ups including Entrepreneurial Consulting Corporation which advised clients within technology, economic development agencies, state, and federal government agencies. Clients included the Kauffman Foundation, KTEC, NIST/ATP, KCCatalyst, and several state entrepreneurial initiatives.
Keith has a passion for supporting entrepreneurship and has spoken as a guest lecturer at Rockhurst University, University of Nebraska, the University of Kansas. Keith has also served as a mentor for KCSpark Lab, KC Pipeline, and the KC Tech Counsel.  Outside of Flyover, Keith is also an active angel investor and has invested in over 15 deals throughout the Midwest. Keith currently serves on the boards of Lending Standard, Innara Health, Inprentus, Verusen, Aker and Layr.  He previously served on the boards of Agrible (acquired by Nutrien), Risk Genius (Acquired by Bold Penguin), and Balance Innovations (acquired by Brinks).