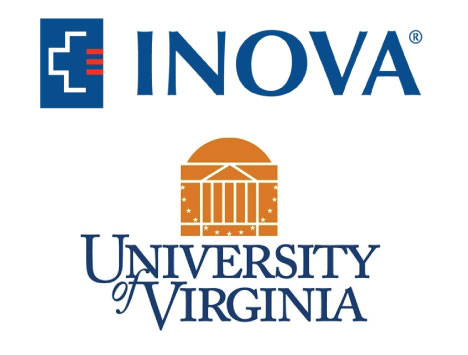 The University of Virginia's Board of Visitors on Friday approved an academic affiliation with the Inova Health System Foundation that includes a research institute and a UVA School of Medicine regional campus.
Global Genomics and Bioinformatics Research Institute
UVA and Inova, along with partner George Mason University, will recruit investigators to work in collaborative teams on genetics and genomics, bioengineering, systems biology of disease, developmental biology and computational biology. The goal: make scientific discoveries that can be turned into new treatments, drugs and devices that improve the health of patients across Virginia and beyond.
"Through collaborative partnerships that build on the strengths of Virginia's research universities and private industry, we believe that the Global Genomics and Bioinformatics Research Institute will make Virginia a world leader in biomedical research," said Dr. David S. Wilkes, dean of the UVA School of Medicine.
The institute will be located at the new Inova Center for Personalized Health campus in Fairfax. UVA and Inova will renovate a 220,000-square-foot building at the center to house the institute. Renovations are scheduled for completion by the end of 2018.
"Similar to the Research Triangle in North Carolina, the institute can also spur new products and businesses that will improve the health of all Virginians while greatly benefiting Virginia's economy," said Dr. Richard P. Shannon, UVA's executive vice president for health affairs.
UVA and Inova also are exploring additional research partnerships. Additional universities or private businesses in Virginia may also join the Global Genomics and Bioinformatics Research Institute in the future.
UVA School of Medicine Regional Campus
The regional campus, expected to open in March 2021, will be located at Inova Fairfax Hospital and will eventually accommodate up to 72 medical students. After completing their first 18 months of medical school in Charlottesville, students will be able to shift to the regional campus in Fairfax to perform their clerkship and post-clerkship rotations, which cover the last 2½ years of medical school.
The regional campus at Fairfax will provide additional capacity to accommodate the educational needs of UVA medical students while providing the students with the opportunity to learn in an environment with a denser population.
"This campus will provide excellent learning opportunities for our medical students, many of whom come to UVA from Northern Virginia," Wilkes said.