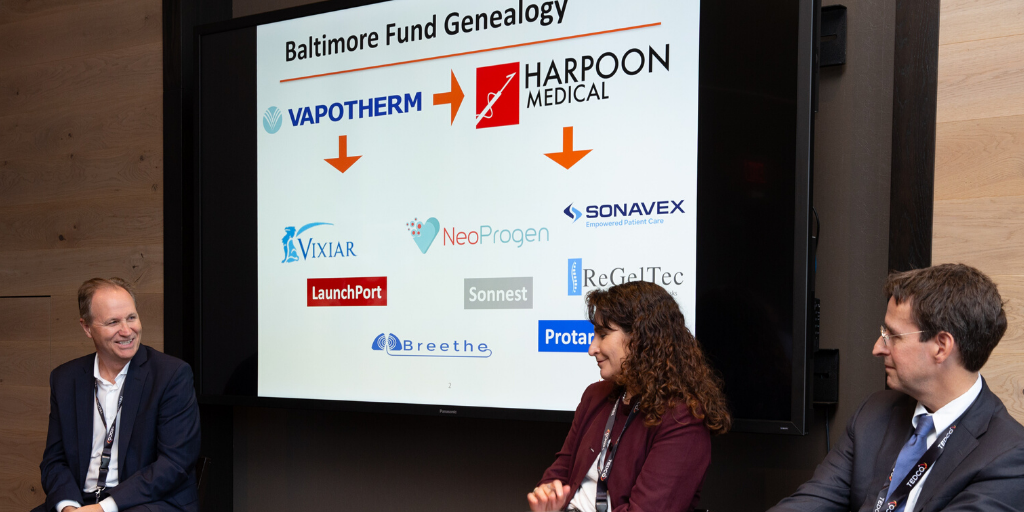 One company gets absorbed into a larger brand and a host of companies flower as a result. The Biohealth Capital Region's (BHCR) cycle of creative destruction has continued with Harpoon Medical. This was the story shared at the TEDCO Entrepreneur Expo's session titled, "Success Breeds Success."
In 2017, Harpoon Medical was acquired by industry giant Edwards Lifesciences Corporation for $250M, which included a $100M cash payment and $150M in milestone-driven payments over 10 years. Edwards Lifesciences acquired Harpoon, then an 18-person Baltimore, Maryland medical device company, for the minimally invasive, beating-heart repair technology for degenerative mitral regurgitation invented by Dr. James S. Gammie, now the Chief of Cardiac Surgery at the University of Maryland Medical Center.
For Harpoon's founders Bill Niland and Dr. Gamme, and lead investor Epidarex Capital of Bethesda, Maryland, the Harpoon deal with Edwards Lifesciences was a remarkable, complex and hard-won agreement. While Harpoon Medical is now part of Edwards Lifesciences, the Baltimore company's legacy is still reverberating throughout the BHCR.
Since the acquisition, serial entrepreneur Niland and Dr. Gamme have not stood pat; instead, they've played instrumental roles in a number of new BHCR companies, proving once again, like we have seen through Human Genome Sciences, Life Tech and MedImmune before it, that success breeds success.
Click here to read more.