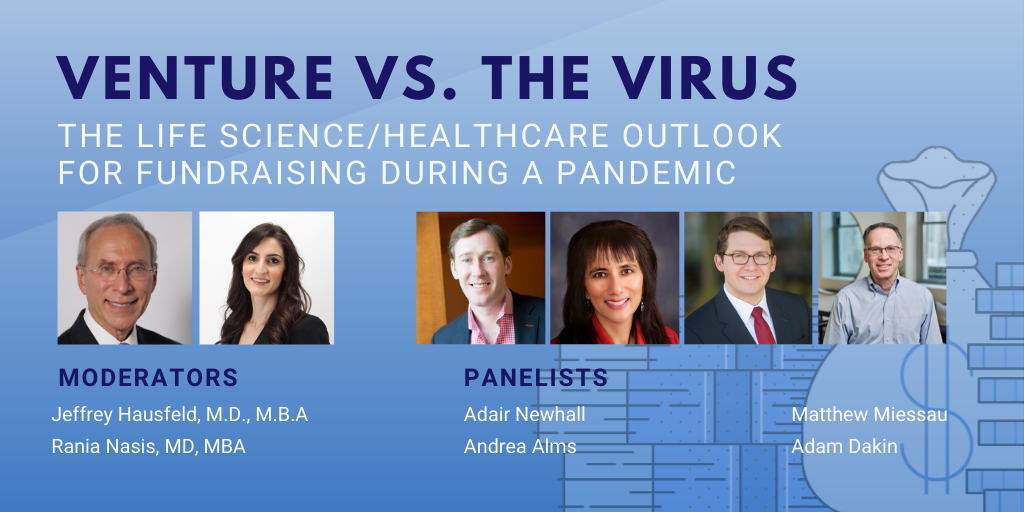 Six Key Takeaways for Entrepreneurs and Startups on Fundraising and How Investors View the Post-Coronavirus Landscape
Over 200 entrepreneurs, startup company executives and those with aspirations of starting a BioHealth company turned in for a live, virtual panel discussion to learn about how COVID-19 is impacting access to the capital every company needs to succeed.
Panelists included notable investors such as Andrea Alms, Co-Fund Manager at BioHealth Capital; Adam Dakin, Managing Director at DreamIT HealthTech; Matthew Miessau, Associate at Epidarex Capital; and Adair Newhall, Principal at Greenspring Associates. 
The program,  "Venture Versus the Virus", was organized by The Society of Physician Entrepreneurs (SoPE), and produced in collaboration with BioBuzz. The program focused on venture capital (VC) key opinion leaders (KOLs) with ties to the BioHealth Capital Region (BHCR) and delivered some nuanced insights for entrepreneurs, while also elucidating larger VC market themes that have emerged during COVID-19.
Dr. Jeffrey Hausfeld, Chairman and Co-Founder of SoPE and the Chief Medical Officer and Chairman of the Board at Frederick, Maryland's emerging biosimilars company BioFactura co-moderated the event along with Dr. Rania Nasis, Director at SoPE and New York Tristate Chapter Co-Leader and the CEO of Starlings, a startup advisory company.
Here are some of the key takeaways. For the full conversation, you can watch the complete webinar recording here:
Deals Are Still Getting Done But Investors Are Wary
The panelists had slightly different takes on how VC firms and investors are responding to the COVID-19 crisis. All agreed that there is still money out there for startups and entrepreneurs, however, many investors have hit a "pause" on investing as they wait to see the ripple effect the pandemic has on various markets.
Adair Newhall noted that investors are waiting for the public downturn to hit private markets, which could take three to six months and drop private values between 20-40%. The good news, according to Newhall: Biotech has seen less disruption than other sectors because of its direct involvement in working on COVID-19 projects.
Miessau, Alms and Durkin all expressed a positive outlook for the life science sector and that it was business as usual at their firms for now.
Series B/C Rounds Might See More Significant Negative Impacts Due To COVID-19
Durkin noted that life science companies closer to commercialization seeking Series B/C rounds might be more negatively impacted by COVID-19 than early stage companies that are seeking funding based on promise and projections. The panelist believed that companies close to commercializing a product and clinical-stage organizations, where supply chain and social distancing could disrupt ongoing trials and prevent trials from starting, could be impacted more seriously than companies seeking pre-seed, seed round and Series A funding.
Click here to read more via BioBuzz