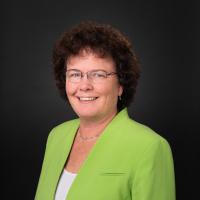 "5 Questions With……" is a weekly BioBuzz series where we reach out to interesting people in the BioHealth Capital Region to share a little about themselves, their work, and maybe something completely unrelated. This edition features 5 Questions with Judy Costello who is Managing Director of Economic Development for BioHealth Innovation, Inc. (BHI).
Judy Costello is Managing Director of Economic Development for BioHealth Innovation, Inc. (BHI). Prior to joining BHI, she served as Director of the Maryland Department of Commerce's Office of BioHealth and Life Sciences and as Deputy Director of the department's BioMaryland Center. In these positions, she has worked to grow the region's biohealth cluster by supporting industry recruitment and retention, commercialization, workforce, non-dilutive and dilutive fundraising, international soft landing, partnership, and promotion activities. She previously served as Executive Director of the Business Alliance for Innovation and Entrepreneurship.
At the Business Alliance, she managed the organization's Bootcamp, angel investor forum, tech transfer showcases, educational seminars, and other programs connecting entrepreneurs, faculty innovators, students, and industry leaders in Maryland, DC, and Virginia with each other and with those providing funding and other resources to young companies.
Before joining the Business Alliance, Costello held positions in economic development, financial services marketing, and university public relations. She is a graduate of Georgetown University and holds an MBA from Loyola University in Maryland.
1. What was your first job/role in the biotech/pharma/life-sciences industry? Tell us about it. (How you ended up there. About the role and company).
Though I interacted with a few early-stage biotech companies while running the Business Alliance Entrepreneur Bootcamp and Grubstake Angel Investor programs, I knew little about the unique life cycle of these companies and the industry until I joined the Maryland Biotechnology Center (later known as the BioMaryland Center) as its first Deputy Director in 2011. The Center was the part of the Maryland Department of Business and Economic Development tasked with guiding the implementation of the state's "Bio2020 plan" involving a $1.3 billion to growing the biotechnology industry in Maryland.  While serving in that role, I had the opportunity to provide economic development (i.e. facilities, financial incentives, workforce, and marketing) support to a wide range of biotech companies.  We worked with industry, academic and government leaders to help build a sense of community, connect the state's biotechnology assets and business growth resources with each other; and promote them in and outside Maryland.
The Department was rebranded to the Maryland Department of Commerce in 2015 and still works, with TEDCO and other agencies, to support the growth of the bio industry in the state. Maryland has so much to offer in terms of its biotechnology industry that it was a very exciting place to be.   Every day, I learned about new technologies and more about resources provided to innovators by the state in which I have lived since 1986.
2. Tell us about your current role and company/org? (highlight what the company is working on, maybe career opportunities there, location, history)
Since 2017, I have worked as the Managing Director for Economic Development at BioHealth Innovation.  The mission is similar to what I was doing at Maryland –supporting biotech industry growth through initiatives focused on expanding capital, talent, commercialization assistance, and other resources to companies; connecting innovators with resources, and promoting the industry cluster. However, BHI's geographic footprint is broader—focused primarily on the BioHealth Capital Region (Maryland, DC, and Virginia)—and also assisting a few companies outside the area.
Our Entrepreneurs-in-Residence, analysts, and consultants provide direct commercialization support to a number of companies including several as part of an international soft-landing program.  This varies from non-dilutive funding application development assistance to market research, business strategy, portfolio vetting and packaging, and business development services. We still support queries about space, workforce, capital raising, economic development incentives, and other growth resources. What I most enjoy is continuing to learn while helping others advance their technologies, career paths, and businesses.