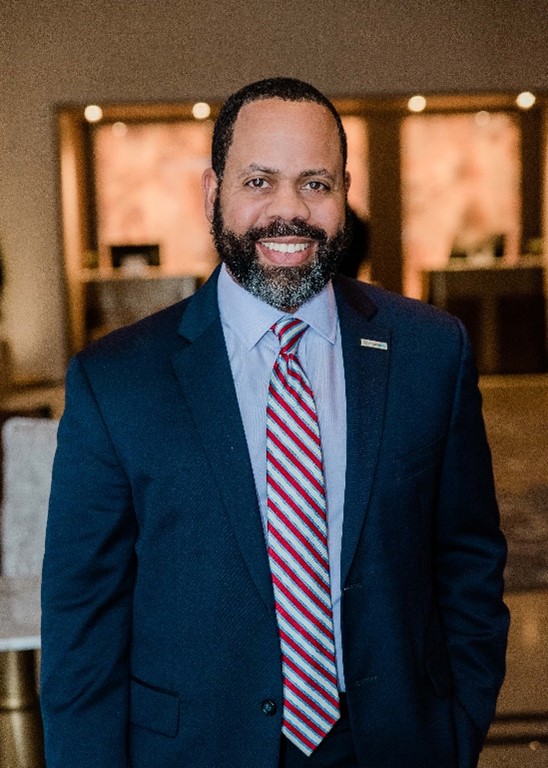 "5 Questions With…" is a weekly BioBuzz series where we reach out to interesting people in the BioHealth Capital Region to share a little about themselves, their work, and maybe something completely unrelated. This edition features 5 Questions John Newby, CEO, Virginia Bio.
John Newby is the CEO at Virginia Bio, the statewide non-profit trade association for the life science industry. Approximately 300 companies spanning biopharmaceuticals, medical devices, med tech, diagnostics, digital health, bioinformatics, agriculture, and industrial bio and related fields are based in Virginia, mainly clustered around research universities and medical institutions. Virginia Bio is the sole state affiliate and works closely with key national industry organizations BIO, AdvaMed, MDMA, PhRMA and We Work for Health.
Newby was formerly the Commissioner of the Virginia Department of Veterans Services (VDVS), where he led an 850-member Agency located across 50 Virginia locations, delivering employment, education, benefits, behavioral health, and long term health care services to Virginia's Reservists, Guardsmen, transitioning service members and 725,000 veterans. Prior to leading VDVS Newby practiced corporate, intellectual property, and Hatch-Waxman biopharmaceutical law at international law firms in Richmond and Washington DC, and at a multinational company. Newby previously commanded an Air Force special operations unit supporting the U.S. Army's 3rd and 7th Special Forces Groups (Airborne), and served in Iraq as an aviator aboard the Boeing B-1B Lancer strategic bomber. Newby received a B.S. from the United States Air Force Academy, with Military Distinction, and his J.D. from the University of Virginia School of Law.
1. You recently transitioned into the BioHealth world after various roles with the Commonwealth of Virginia. Share with us a little about your career path.
To be honest, I probably do not follow what most define as a "career path"; I probably more accurately adhere to a "career philosophy."  Coming from a military family and being a veteran myself, I have always held a philosophy of and desire for public service, doing things that focus on a larger community and a mission worth supporting.  After leaving the military I went to law school with the same thought in mind: get some skills that would allow one to serve in innumerable capacities.  And glad I did!  It allowed me to practice in the biopharmaceutical space, do pro bono work for veterans filing claims for disability compensation, and led me to an opportunity to run Virginia's Department of Veterans Services.  And, ultimately, brought me back to the life science community with a wonderful opportunity to lead the Virginia Biotechnology Association, our state's premier organization supporting all aspects of life science.
2. You've been with Virginia Bio for a little over a year. Tell us about your role.
Our mission at Virginia Bio is to promote innovation and growth through strengthened networks, advocacy, capital investment, talent development, and retention, and advance the next generation of leaders. We are a member-driven organization comprising over 270 organizations representing all facets of biotechnology: MedTech, diagnostics, therapeutics and vaccines; research institutions; and investors. My role is simple: to support our Board and lead a team of professionals to execute that mission. I am primarily focused on network building within the BioHealth Capital Region, attracting capital to Virginia, and ensuring that our state policymakers appreciate and support our industry as we continue to innovate and save lives.
3. The industry in Virginia goes beyond just NoVa. What are some of your favorite stories from companies in the Commonwealth that most of the BioHealth Capital Region wouldn't know about?
Yes, the industry goes well beyond one region!  For instance, the Richmond area is home to the 34-acre VA Bio+Tech Park, occupied by 70 companies, research institutes, and state/federal laboratories.  The Richmond region also has several major life science employers, such as Phlow Corporation (recent recipient of a $354 million BARDA grant to domestically produce certain API's), Kaleo, FUJIFILM Wako Chemicals, and GlaxoSmithKlein Consumer Healthcare.
The Charlottesville area has an industry cluster of 179 firms and organizations in biotech and medical devices related industries that employ 3,033 workers, many with connection to the University of Virginia. Over the past 10 years, the region has seen nine major exits from companies within the biotech industry, including the 2018 acquisition of Type Zero by Dexcom and the Jazz Pharmaceutical's 2019 $315m acquisition of Cavion.
Blacksburg is home to The Virginia Tech Corporate Research Center (VTCRC) situated on 230-acres with 180 resident research, technology, and support companies. Roanoke' Fralin Biomedical Research Institute, adjacent to Carilion Clinic, has state-of-the-art facilities for molecular medicine, imaging, high-capacity data handling, and human performance analysis. In addition, the Virginia-Maryland School of Veterinary Medicine is located in Blacksburg, VA.
Hampton Roads, home to 510 life science companies that employ 8,787 workers, has experienced recent investments in a life science sector. Three research parks supporting expansion of the life sciences in the region include the Innovation Research Park @ Old Dominion University, the Tech Center Research Park in Newport News, and the future VABeachBio Research Park
And, of course, Northern Virginia itself, which has made significant investments to grow the life science sector to include the 9,000 sqft. Science accelerator and the 30,000 sq. ft. Northern Virginia BioScience Center expected to open in November 2021. The region is home to George Mason University, George Washington University Loudoun Campus, Northern Virginia Community College, HHMI Janelia Research Campus, and Inova, Sentara, Novant Health System, and several life sciences companies. Northern Virginia is home to 1,517 life science companies that employ 30,555 workers including Ceres Nanoscience, Serpin Pharma, Vibrent, ATCC, and Aperiomics.
4. What do you say to companies looking to startup or relocate to the BioHealth Capital Region about the benefits of Virginia?
Three things: quality of life, talent pool, and bioscience assets.  Regarding the quality of life: many biotechnology companies, responding to economic and employee pressures, are seeking opportunities in more economically viable and hospitable places.  Look no further than Virginia!  Our real estate and lab spaces are ½ or less the price found in Boston and California, and our cost of living and quality of life are immeasurably better!  Our talent pipeline is primed by our major research universities at Virginia Tech, University of Virginia, Virginia Commonwealth University, and others.  And regarding our assets: while other bioscience clusters are pricing new companies out of the market and are running out of lab space, Virginia is growing, with nearly 50,000 new sq. ft. of lab space coming online in the next two years.  And in addition to a robust and supportive bioscience ecosystem, another Virginia asset is the geographic proximity to our industry's key federal agencies including the NIH, FDA, BARDA, DARPA, and NSF.  Come join us!
5. If you weren't in this line of work, what career would you want to pursue?
Any "career" (such as it may be) that will enable me to lead a team, brought together to achieve a mission that benefits society.  Leadership is a largely underappreciated asset until tragedy strikes or major change needs to be accomplished in a short amount of time.  It is often the difference between a successful organization and one that is, at best, ineffectual and, at worst, detrimental to the community.  So, I would be attracted to anything that allows me to team with people who are working towards something greater than themselves, like what we have here at Virginia Bio.
Thank you to John Newby for participating in the '5 Questions with BioBuzz' series and stay tuned for more interviews with others from across the BioHealth Capital Region and beyond.