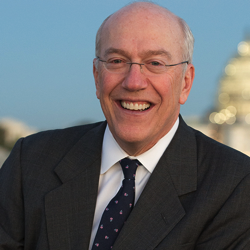 We thought 2021 would bring a stronger path forward for Greater Washington — and the world — after a debilitating, unpredictable, unprecedented 2020.
And yet, we remain steeped in uncertainty and adversity after a Delta variant of the Covid-19 virus deepened the death toll and put thousands more at risk on a daily basis, physically and mentally, while businesses and employers continue to navigate through reopening delays and staff departures.
Our CEO of the Year stood at the nexus of all of those issues, on the literal front lines of the health crisis amid a financial downturn and worker shortage. He was working to not only sustain, but also grow, his organization, even as he assumed responsibility for attending to our community's most vulnerable population: our children.
He is Dr. Kurt Newman, president and CEO of Children's National Hospital.
He's been in that role for a decade and a surgeon for decades more than that. Yet, 2021 was unparalleled, bringing what Newman himself has described as "a perfect storm." Whether it was Covid or seasonal flu, respiratory disease or behavioral health, he watched pediatric admissions soar this year at his 323-bed pediatric hospital, more so than even during the heights of infection in 2020. He's pushed for vaccinations for all ages, including among his own staff, and he contributed to clinical trials and advocated for greater resources as a D.C. Hospital Association board member as the pandemic pressed on.
Click here to read more via the Washington Business Journal.