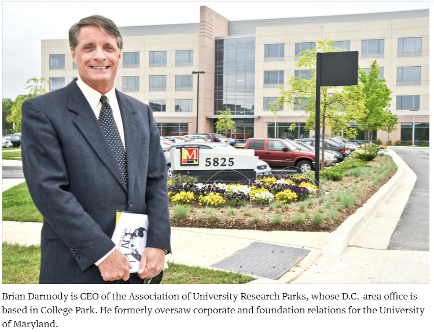 Remember the frenzy in 2017 when over 200 cities and towns across the U.S. bid to house the second headquarters for Amazon? Northern Virginia in the D.C. region won that bid ultimately.
But cities, states and regions might want to dust off those bids to enter a new $1 billion competition by the U.S. Economic Development Administration (EDA) that promises more winners across the country in applied science areas to help make the U.S. more technologically competitive and inclusive. Thankfully, this competition will look more like the Olympics with many gold, silver and bronze winners compared with the winner-take-all approach of Amazon HQ2.
EDA will grant $500,000 in technical assistance to 50 to 60 regional coalitions to develop and support three to eight projects to support a regional growth cluster this fall. Next year, EDA will award 20 to 30 regional coalitions $25 million to $100 million to implement those projects from among those that were successful in Phase One.
Universities, states, counties, cities, economic development districts and other nonprofit organizations are eligible to compete. The EDA is expecting regional coalitions, including industry and community partners, to build and scale strategic industry clusters. Accordingly, the old Amazon HQ2 regional alliances might be useful in going after these new funding sources. States are receiving separate allocations of up to $1 million directly from EDA to also create roadmaps for this competition and related purposes.
What might some of these clusters and projects be? Perhaps precision agriculture in Nebraska, space tech in Alabama, computer chip manufacturing in New York, immersive media in Southern California and quantum computing in Maryland, with advanced manufacturing incorporated in each hub and strategies to involve underrepresented populations in the cluster. It will be up to each region, however, to understand its strengths, weaknesses and comparative advantages in new technology clusters.
Importantly, the EDA funding is just the first of many new programs that will build other regional tech hubs. Billions more dollars in new regional hubs are in the offing through the U.S. Innovation and Competition Act, the new Science Directorate at NSF, the proposed ARPA-H biotech agency, proposed at $6 billion alone, among other programs expected to pass Congress and signed into law later this year or next.
The problem? It can take many years to plan, build and open new research and technology facilities since obtaining zoning, environmental review, community acceptance and funding for projects is complicated and time consuming. Existing research and tech spaces can take some of the load. But it is not as if there are large swaths of unused research and innovation space in regions. This is where research parks, innovation districts, incubators and accelerators offer ready-made solutions. These community-based entities have existing infrastructure, zoning, research space and partnerships with developers skilled in quickly constructing new facilities adjacent to universities, federal labs, hospitals and other anchor institutions.
But Congress needs to help create these hubs and make the U.S. more competitive by taking three additional steps:
Reform IRS rules on corporate research taking place in university research facilities financed with tax-exempt bonds. Complicated IRS rules on patent ownership when corporations sponsor research in these types of university facilities inhibit public-private partnerships and sometimes move corporate research overseas. Now that more university research hubs are expected to be built with the EDA and other funding, Congress should fix that.
Give all federal labs the tools to engage with the local community. Billions of dollars of research sponsored by Nobel Prize-winning scientists takes place in federal labs across the region. But all federal labs don't have the same tools to use their land for public-private partnerships, engage technology intermediaries to spin out technologies or have consistent pathways for federal researchers to be engaged with entrepreneurial activities. We should support ideas like the FASTER Fed Labs Act.
Create more U.S. patents through existing federal research funding. Patents are critical factors in building a strong tech-based economy. But other countries are investing in more patents than the United States. In 2020, China knocked the U.S. from being No. 1 in the global patent race. The current Office of Management and Budget policy should be changed to allow — but not require — universities to charge the cost of patent filings directly on federal grants and contracts.
The clock is ticking on the Oct. 19 planning grants EDA deadline. Real estate developers should be working with local universities and economic development groups to plan strategies now. And Congress should do its part to help create more regional tech hubs in the U.S. by tweaking some existing policies and laws.
Brian Darmody is CEO of the Association of University Research Parks, whose D.C.-area office is based in College Park.
Want to learn more about new federal funding to build tech hubs and communities of innovation?
Join us in Salt Lake at the AURP International Conference, Oct 19-21, 2021 to hear from the US Economic Development Administration and a leading government relations expert on latest updates from Washington D.C.
https://international.aurp.net/
INNOVATION INFRASTRUCTURE: HOW CONGRESS AND THE WHITE HOUSE ARE SUPPORTING INNOVATION

Congress and the Biden Administration are proposing unprecedented funding opportunities for technology-based research clusters across the United States. New initiatives at the National Science Foundation (NSF), National Institute for Standards and Technology (NIST), NIH (National Institutes for Health) and EDA (Economic Development Administration) offer incredible opportunities that research parks, innovation districts, universities, cities, and regions need to prepare for. Hear the latest developments (on Wed., Oct. 20, 8:15am-9:00am MT) from Washington DC-based representatives on actionable ideas on how to leverage these opportunities.