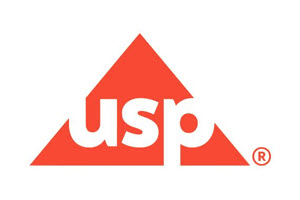 New methods were created in collaboration with public health organizations, pharmacopeias, regulators, and manufacturers to help ensure quality and improve public trust
Rockville, MD, May 17, 2021 – The U.S. Pharmacopeia (USP) announced the release of a range of tools and resources to help reduce risks from substandard and falsified COVID-19 treatments, and to assist manufacturers, regulators, and quality control laboratories in helping to ensure quality COVID-19 treatments are being procured, produced, and distributed.
"While COVID-19 vaccines are essential to end the pandemic, treatments are a critical component to help patients, particularly those who are hospitalized with COVID-19," said Jaap Venema, Ph.D., USP's Chief Science Officer. "It is vital that regulators and manufacturers ensure approved therapeutics, like remdesivir, meet quality expectations. We have already seen the demand versus supply imbalance result in substandard and falsified remdesivir, particularly in low- and middle-income countries. USP is committed to helping to ensure quality throughout the medicines supply chain."
The antiviral drug VEKLURY® (remdesivir), invented, developed and manufactured by Gilead Sciences, Inc., was the first U.S. Food and Drug Administration (FDA) approved treatment for pediatric and adult patients at least 12 years of age and weighing at least 40 kg who are hospitalized with COVID-19.  It was granted emergency use authorization by the FDA in May 2020 and was approved by the FDA under the tradename of VEKLURY on Oct. 22, 2020.[i] As a standard of care, healthcare providers around the world are using remdesivir not only to treat patients, but also in clinical trials to understand its efficacy and safety in different patient populations and in combination with other investigational treatments.[ii]
The USP Methods to Detect Falsified Remdesivir publication includes procedures developed by USP for determining the identity and strength of the remdesivir active pharmaceutical ingredient (API) and drug product – essential tools for detecting substandard and falsified medicines. The publication includes procedures using infrared spectroscopy (IR), ultra-high performance liquid chromatography (UHPLC), and nuclear magnetic resonance spectroscopy (NMR) technologies along with supporting validation results. It also features USP's first quantitative NMR (qNMR)-based digital spectra for determining the identity of remdesivir API using either high field or benchtop qNMR instruments.
In addition to the USP Methods to Detect Falsified Remdesivir publication, USP announced other resources to help combat substandard and falsified COVID-19 treatments including:
Minilab's Screening Tools for Dexamethasone:
In collaboration with USP, the Global Pharma Health Fund developed two new test methods on dexamethasone for the Minilab testing platform. These screening tools complement USP's compendial standards available in the USP-NF for dexamethasone, a corticosteroid being widely used to treat COVID-19 patients.
IMWP draft monographs for Favipiravir
Pharmacopoeias around the world continue to work together to support the COVID-19 response. As part of the World Health Organization's (WHO) International Meeting of World Pharmacopoeias (IMWP),  pharmacopeias have developed and made available two IMWP draft monographs for Favipiravir and Favipiravir Tablets to be used on a voluntary basis. Favipiravir is an antiviral approved for COVID-19 treatment in Japan, Russia and India.
Substandard and falsified medicines pose a threat to global health security and hinder the ability of strong and resilient public health systems to prevent, detect, and respond to infectious disease threats.
"Major public health events can increase the vulnerability of medicines to the threat of substandard and falsified products," said Jeff Moore, Ph.D., Senior Director, Scientific Affairs & Strategy at U.S. Pharmacopeia. "These resources to help combat substandard and falsified COVID-19 treatments were created in collaboration with public health organizations, pharmacopeias, manufacturers, and regulators from around the world and are an important example of the value and importance of collaboration in times of need."
For over 200 years, USP has supported the development, manufacturing, and distribution of quality medicines through development of standards and other tools that help ensure the quality of medicines. USP is working with government organizations, other pharmacopeias, manufacturers of drugs and other health products, and healthcare professionals in the US and around the world to help build the public's trust in vaccines and treatments for COVID-19.
These resources are for informational purposes only and intended to provide tools to address substandard and falsified treatments during the COVID-19 pandemic. They are intended to complement standards developed by USP and other organizations by providing validated methods with supporting results to verify the ingredients and quality of these treatments. These tools are not part of the U.S. Pharmacopeia-National Formulary and does not reflect USP's opinions on future revisions to official text of the USP–NF. Parties relying on these resources bear independent responsibility for awareness of, and compliance with, any applicable federal, state, or local laws and requirements.
About USP
U.S. Pharmacopeia (USP) is an independent, nonprofit, scientific organization that sets quality standards for medicines, dietary supplements and food ingredients worldwide. USP's quality standards are legally recognized in the United States and elsewhere and are used in more than 140 countries. These standards, which are continuously developed and revised by more than 800 volunteer experts in science, industry, healthcare and academia. Learn more at www.usp.org.
For additional information about how USP is working to improve the supply of safe, trusted COVID-19 vaccines, treatments, and preventatives, visit www.usp.org/covid-19