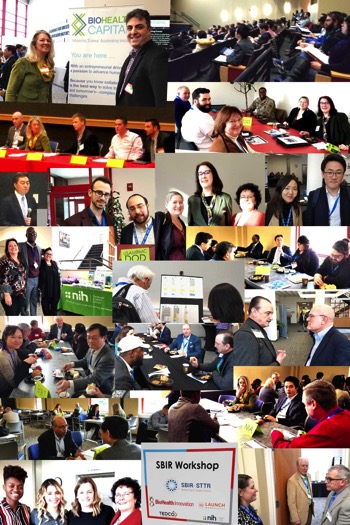 More than 120 people registered for last week's SBIR Workshop organized by BioHealth Innovation in partnership with Launch Workplaces and support from TEDCO and NIH FCU.  
The event featured program overviews, "how to" sessions regarding specific aspects of proposal development and 1:1 partnering meetings with the program managers.  
Speakers included:  Todd Haim,  Ph.D., Chief, Office of Small Business Research NIA;  Mike Pieck, Ph.D., Small Business Coordinator, NHLBI; Maureen (Cusick) Thomas, Outreach Coordinator, NIA;Victor Prikhodko, Business Advisor, NIDA; Amir Rahbar, PhD, MBA, Program Director, NCI;  Vladimir M. Popov, PhD, Business Dev. Manager, NCI-FNL;Amir Rahbar, PhD, MBA, Program Director, NCI; Henry Ahn, Program Director SBIR/STTR, NSF; and Colleen Gibney, SBIR Deputy Project Mgr, USAMRMC.  
44% of the attendees had applied for SBIR funding before with half of these innovators receiving a Phase 1.  Only 16% had received a Phase II award.  The majority of attendees were from Montgomery and Frederick Counties and the City of Baltimore.  However, registrants also traveled from Virginia, DC, Illinois and Pennsylvania.