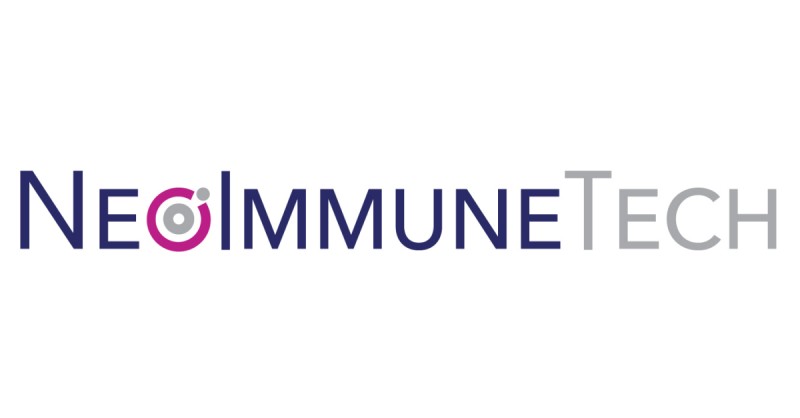 ROCKVILLE, Md.–(BUSINESS WIRE)–NeoImmuneTech, Inc. (KOSDAQ: 950220), a clinical-stage T cell-focused biopharmaceutical company, today announced the closing of its initial public offering of 3,133,334 shares of common stock, equivalent with 15,666,670 Korea Depository Receipts (KDRs) priced at KRW 37,500 per share, equivalent with KRW 7,500 per KDRs. The aggregate gross proceeds to NeoImmuneTech, before deducting underwriting discounts and commissions and other offering expenses, were KRW 117.5 billion ($103.4 million). NeoImmuneTech's common stock began trading on the Korea Exchange on March 16, 2021, under the KOSDAQ code number "950220."
Hana Financial Investment and Mirae Asset Daewoo acted as joint book-running managers for the offering.
This press release shall not constitute an offer to sell or the solicitation of an offer to buy nor shall there be any sale of these securities in any state or jurisdiction in which such offer, solicitation or sale would be unlawful prior to registration or qualification under the securities laws of any such state or jurisdiction.
About NeoImmuneTech
NeoImmuneTech, Inc. (NIT) is a clinical-stage T cell-focused biopharmaceutical company, dedicated to expanding the horizon of immuno-oncology and enhancing immunity to infectious diseases. NIT is led by the scientific founder and inventor of NT-I7 (efineptakin alfa) and complemented by a strong executive team with rich industry experience at companies such as Novartis, BMS, GSK, Pfizer, Amgen, Eli Lilly, MedImmune/AstraZeneca and PwC. NIT is expanding rapidly in personnel and operations, as well as partnering with industry and academic leaders to investigate NT-I7 as monotherapy and in combination with various immunotherapeutics. For more information, please visit www.neoimmunetech.com.
Contacts
Investors:
Hayoung Lee
+82 31 709 5858
hylee@neoimmunetech.com
Media:
MacDougall
Carolyn Noyes
+1 781 235 3060
cnoyes@macbiocom.com