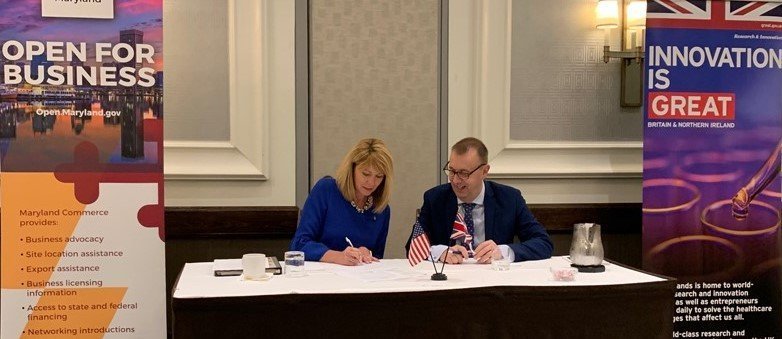 Last week two new partnerships were formed between Maryland and the United Kingdom. Biohealth Innovation, a MD based public-private nonprofit focused on accelerating commercialization for biohealth, will be collaborating with Catalyze, an Amsterdam based company dedicated to bringing non-dilutive funding for biomedical innovations.
Another alliance was formed across the pond at the 2019 BIO International Convention in Philadelphia as Maryland Commerce Secretary Kelly M. Schulz and Sir John Peace, chairman of the Midlands Engine, signed a Memorandum of Understanding (MoU). These new partnerships speak to the collaborative approach Maryland is taking to continue to grow its life sciences industry and expand growth opportunities for the hundreds of Maryland-based companies.
The MoU is a mutually beneficial agreement that will help bring investors to the table to help life science companies in Maryland and the Midlands thrive. This new union seeks to promote economic growth for both economies through opportunities like an exchange program that will be implemented by the two countries. Life science companies from Maryland and the Midlands will visit the other country to seek opportunities for expansion into the local market. One such trade mission already took place this past March with participation by eleven life science companies. 
Click here to read more via BioBuzz.