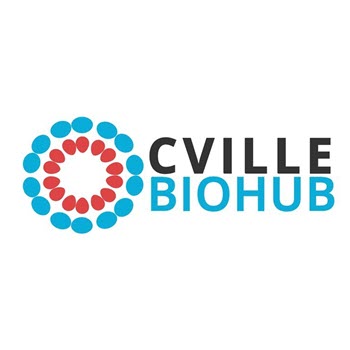 Expanded entrepreneurship program will accelerate progress for new companies
August 10, 2021, Charlottesville, VA — CvilleBioHub today announces a leadership transition, naming Stephany Oettinger as Executive Director to succeed Nikki Hastings, Ph.D., who will continue to serve as Entrepreneur-in-Residence and Board Member.
Oettinger takes on the role after nearly two years serving as program and communications manager for the organization. She brings nearly 20 years of experience in strategy, communications and marketing, including consumer and industry association work. In the Executive Director role, she will work to foster an increasingly connected and diverse, equitable, and inclusive biotech community through valuable programming and events that strengthen the ecosystem to expand the industry's impact within the region.
"I am grateful for the opportunity to work alongside this collaborative community of more than 75 companies to propel growth and share the important stories of our collective successes," Oettinger said. "There is an impressive amount of activity with new companies forming and companies adding new jobs within the Hub. Additionally, we are seeing strong local angel and seed support, a diversity of outside investment interest and record raises for maturing companies. The industry is innovating and thriving. Charlottesville delivers both quality in innovation and quality of life. It's an exciting time to be in biotech in our region."
Dr. Hastings, a CvilleBioHub co-founder and the organization's first executive director, will continue to advance entrepreneurship in a new capacity as Entrepreneur-In-Residence (EIR), bringing more than 15 years of biotech industry experience in startup environments to advise early-stage companies on commercialization, operations, talent and funding strategies.
"I have a passion for biotech entrepreneurship in all stages," Hastings said. "I am excited by the growth of the EIR program that is following the increased activity from early-stage ventures in our region and honored by the opportunity to both broadly and deeply support emerging technologies and commercialization."
"As an industry-led organization built from the ground up, we have accomplished so much in our first five years thanks to Nikki's visionary leadership," said Taylor Cope, chair of CvilleBioHub's Board of Directors. "Stephany has worked alongside Nikki to refine our strategic plan and deliver high caliber programming for our community. We look forward to her building on our momentum, serving companies at all stages of growth, and strengthening the regional bioeconomy."
About CvilleBioHub
CvilleBioHub is an industry-led, 501(c)(3) nonprofit organization providing engagement, resourcing and education to the Charlottesville-area biotechnology community. The organization has led the growth and expansion of the biotechnology innovation cluster in Central Virginia and has been identified as a model bio hub within the state of Virginia. Charlottesville is home to more than 75 companies working across all aspects of biotech and life sciences to advance human health through innovation, including subsectors that focus on medical devices, instrumentation, therapeutics, vaccines, health technology/software, agriculture technology, non-profit foundations, clinical research and biomanufacturing. There are more than 2,000 employees in the regional cluster and more than $400M invested in the area to date. For more information about CvilleBioHub, visit www.cvillebiohub.org.