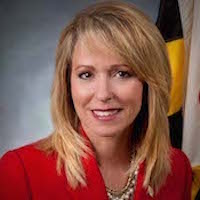 Maryland Secretary of Commerce Kelly M. Schulz toured the new I-270 Innovation Labs on November 3rd, welcoming the much-needed center to the state's tech and life sciences industries. The 22,000 square feet facility encompasses a wide mix of wet and dry labs, and is strategically located in southern Frederick County near both the I-270 and I-70 interstate highways.
"Having the private sector come forward and be able to create this kind of spec lab space in different parts of the state has been very, very helpful for the entrepreneurs," Schulz said. "And we've seen a great growth in entrepreneurial resilience over the course of the pandemic in the last 20 months."
Regional demand for sub-2,000 square feet laboratories has been chronically underserved, and the new I-270 Innovation Labs addresses this critical need with turnkey lab space that is highly adaptable and integrates essential operational safeguards. In particular, those needed to ensure high levels of biosafety. Forward thinking design brings about a range of high‐quality wet and dry laboratory layouts, and multimodal workspaces with rapid reconfiguration capabilities. On-demand key resources and services dovetail adaptable commercial terms so that enterprises, startups, research and educational institutions, and other types of tech and biotech organizations are able to reduce cost and risk, compress operational scaling and R&D timelines, and focus on discovery.
Click here to read more via BioBuzz.