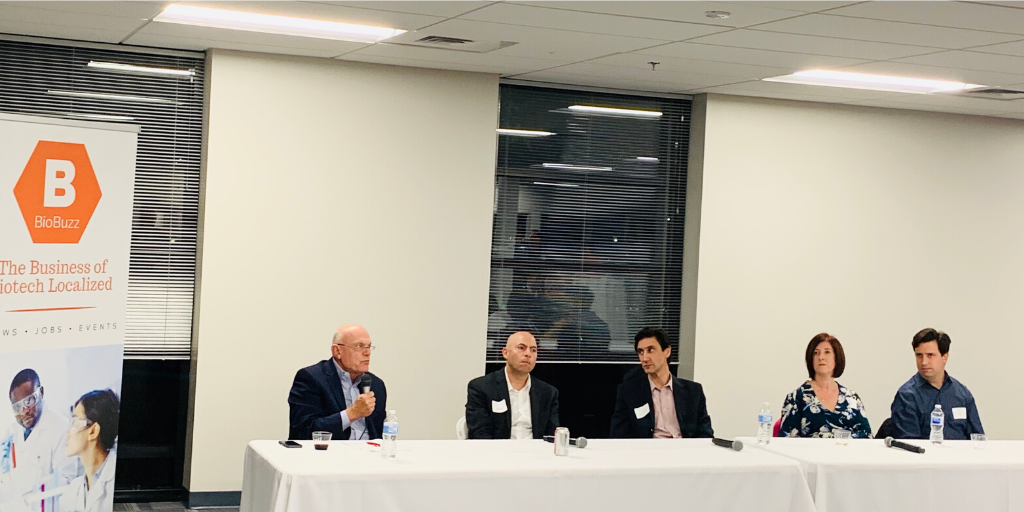 In the heart of Montgomery County, Maryland's premier biotech district there is a 42,000 SF facility with 17,000 SF vacant lab/office suite located at 9900 Medical Center Drive. The newly delivered and available lab space was designed to foster collaboration and learning with an open layout, a welcoming courtyard and an inside common area that is shared with other local tenants.
Collaboration and learning are exactly what was happening on a Wednesday evening in December as nearly 100 biotech professionals, entrepreneurs and leaders from across the BioHealth Capital Region's (BHCR) gathered for a 'CEO Talks' panel to hear from four CxO's who are leading the regions most exciting biotech companies.
Hosted by Alexandria Real Estate (ARE) and CBRE, the event was moderated by BioHealth Innovation, Inc. (BHI) Founder, President, and CEO, Rich Bendis. As a renowned innovator, investor and regional ecosystem builder, Bendis has played a part in the success stories for many founders and knows what it takes for a biotech startup to become successful.
The CxO panel featured Greg Merril, CEO of Adaptive Phage Therapeutics; Dr. Murat Kalayoglu, CEO at Cartesian Therapeutics; and the dynamic husband and wife duo, Matt Mulvey, Ph.D. BeneVir CEO at The Janssen Pharmaceutical Companies of Johnson & Johnson and Katherine Sacksteder, Ph.D. and BeneVir COO at The Janssen Pharmaceutical Companies of Johnson & Johnson.
Click here to read more via BioBuzz