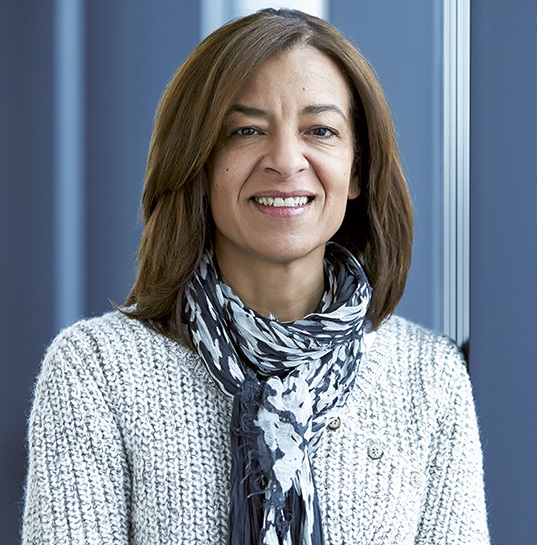 The Healthcare Businesswomen's Association (HBA) announced that its 2017 Woman of the Year is Bahija Jallal, PhD, executive vice president, AstraZeneca, and head of MedImmune. MedImmune is the global biologics research and development arm of AstraZeneca.
"The Healthcare Businesswomen's Association is extremely proud to honor Bahija Jallal as our 2017 Woman of the Year," said HBA CEO Laurie Cooke. "Bahija brings her visionary leadership, sharp intellect, and empowering presence to her organization and challenges individuals to think bolder and dream bigger. Bahija's commitment to mentoring young aspiring women, as well as launching MedImmune's annual Women's Summit, exemplifies her dedication to achieving gender parity for healthcare businesswomen."
Pascal Soriot, chief executive officer, AstraZeneca, said, "Every day, Bahija is an inspiration to her staff, the employees of MedImmune and AstraZeneca, countless scientists, business colleagues outside of the company and the hundreds of women and men across the globe who have had an opportunity to work with her in some capacity. She inspires me as well and I am proud of all the work she has done on behalf of patients."
Bahija will be honored at the HBA's 28th annual Woman of the Year (WOTY) event on Thursday, 11 May, at the New York Hilton Midtown. The WOTY event, which draws upward of 2,000 women and men from throughout the healthcare industry, showcases the HBA's core purpose of furthering the advancement and impact of women in the business of healthcare. Awards for Honorable Mentor, STAR (Strategic Transformation Achievement Recognition) and a group of some 100 Rising Stars and Luminaries, noted for their accomplishments and contributions to the healthcare industry, also will be presented at the WOTY event.
"I am humbled to receive this recognition, and to join the distinguished list of HBA Woman of the Year recipients who have come before me, working so tirelessly to improve patient lives," said Bahija. "I am proud to say that at MedImmune, about 50 percent of our employees are female and our leadership team is equally diverse. As the HBA Woman of the Year, it is a privilege for me to represent not only these talented female innovators, but also so many amazing women in the healthcare industry."
As executive vice president, AstraZeneca, and head of MedImmune, Bahija is responsible for biologics research, development and clinical activities.
Bahija joined MedImmune as vice-president, translational sciences in 2006 and became head of MedImmune in 2013. She has guided MedImmune through an unprecedented expansion of its pipeline; in fact, in 2007 MedImmune accounted for five percent of the overall AstraZeneca pipeline, and today it represents approximately 50 percent. The company now has more than 130 biologics in R&D and 40 products in clinical development. Bahija has authored more than 70 peer-reviewed publications and holds more than 15 patents. She is a member of the American Association for Cancer Research, the American Association of the Advancement of Science, and is president of the board of directors of the Association of Women in Science. Bahija also serves on the board of trustees of the Johns Hopkins University in Baltimore, Maryland.
Bahija received a master's degree in biology from the Universite de Paris VII in France, and her doctorate in physiology from the University of Pierre & Marie Curie in Paris. She conducted her postdoctoral research at the Max-Planck Institute of Biochemistry in Martinsried, Germany.
About the HBA
The Healthcare Businesswomen's Association (HBA) is a global nonprofit organization comprised of individuals and companies from across the healthcare industry committed to achieving gender parity in leadership positions, facilitating career and business connections and providing effective practices that enable organizations to realize the full potential of their female talent.
The HBA accomplishes its mission through strong business networks, education, research, advocacy and recognition for individuals and companies.
The HBA has nearly 120 Corporate Partners and 8,000 members served by more than 20 chapters and affiliates across the US and Europe.