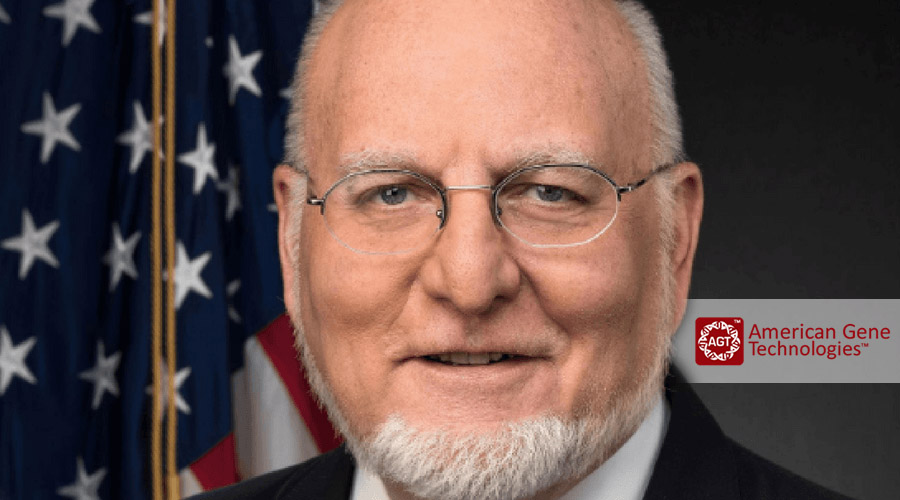 Dr. Redfield's expertise in virology strengthens AGT's capacity to develop innovative HIV treatments.
American Gene Technologies (AGT) announces the appointment of Dr. Robert R. Redfield, former director of the Centers for Disease Control and Prevention (CDC) and co-founder of the Institute for Human Virology, as special advisor to AGT CEO Jeff Galvin.
Dr. Redfield is well known for his decades of dedicated work in virology, immunology and clinical research. He has helped lead collaborative research into HIV/AIDS since the beginning of the epidemic during his years as a U.S. Army physician and at the University of Maryland School of Medicine. Dr. Redfield has held multiple advisory positions, including with the President's Advisory Council on HIV/AIDS, the National Institutes of Health and the U.S. Food and Drug Administration. He was the CDC director from March 2018 to January 2021, leading the agency through a period of historic challenges, including the onset of the COVID-19 pandemic.
"It's a great honor to have Bob back on board," said AGT CEO Jeff Galvin. "He played a pivotal role for us as an advisor beginning in 2011, becoming chair of the Clinical Advisory Board for our HIV Cure Program before having to resign when he was appointed as director of the CDC. Bob's passion for public service is matched only by his devotion to the cause of finding a cure for HIV. Having him on our team strengthens our capacity to achieve that dream."
Dr. Redfield's expertise in virology and extensive experience in HIV research will be very helpful as AGT conducts the ongoing phase 1 trial of AGT103-T, a cell and gene therapy for HIV disease. Durable viral suppression without the use of antiretroviral therapies is the goal of AGT's phase 1, and Dr. Redfield's long-standing commitment to the development of innovative treatments for HIV makes him well-suited to assist in the major milestones ahead.
"This is an exciting homecoming for me," said Dr. Redfield of his appointment. "I have followed AGT's development from the beginning, and am proud to do what I am able, to bring this therapy to patients. I look forward to once again collaborating with Jeff and the entire team as AGT continues to act as pioneers in gene therapy and the work for an HIV cure."
Phase 1 in the Maryland/DC Area
AGT's Phase 1 trial for AGT103-T is currently underway at trial sites in the Maryland / Washington, DC area. The recruitment status of the phase 1 RePAIR (Restore Potent Antiviral Immune Responses) clinical trial along with information of the trial sites can be found on ClinicalTrials.gov. The trial is the company's first step in clinical testing of cell and gene therapies for HIV, cancer, and rare diseases.
About HIV
According to UNAIDS, approximately 37.7 million people worldwide live with HIV/AIDS. In the United States, government statistics show 1.2 million people have HIV and estimate that 34,800 Americans were newly infected with HIV in 2019. Across the globe, UNAIDS estimates that approximately 1.5 million individuals were newly infected with HIV in 2020. The Washington D.C./Baltimore area is often cited as a 'hot spot' for HIV, with Washington, D.C., having the highest rate of infection at nearly 46 cases per 100,000 population and Baltimore City having rates of 17 cases per 100,000. Maryland also ranks sixth among U.S. states and territories in HIV diagnosis rates, with more than 900 new cases in 2019 alone, according to the Maryland Department of Health.
Since the late 1980s, antiretroviral therapies have restored quality of life to persons living with HIV and, in some cases, have even been used to prevent new infections. However, no approved treatments offer durable remission or cure for HIV. AGT is committed to addressing this unmet medical need.
About AGT103-T
AGT103-T is a genetically modified cell product made from a person's own immune cells. AGT's unique approach is focused on repairing the key immune system damage caused by HIV. AGT's goal is to develop a cell and gene therapy capable of repairing the immune system to provide natural control over HIV replication.
About American Gene Technologies
AGT is a gene and cell therapy company with a proprietary gene-delivery platform for rapid development of cell and gene therapies to cure infectious diseases, cancers, and inherited disorders. AGT's mission is to transform people's lives through genetic medicines that rid the body of disease. AGT has been granted four patents for the technology used to make AGT103-T and 11 patents for its unique gamma-delta (γδ) T cells to destroy a variety of solid tumors. The company has developed a synthetic gene for treating Phenylketonuria (PKU), a debilitating inherited disease. AGT's treatment for PKU has been granted Orphan Drug Designation by the Food and Drug Administration (FDA), and it is expected to reach the clinic in 2022.