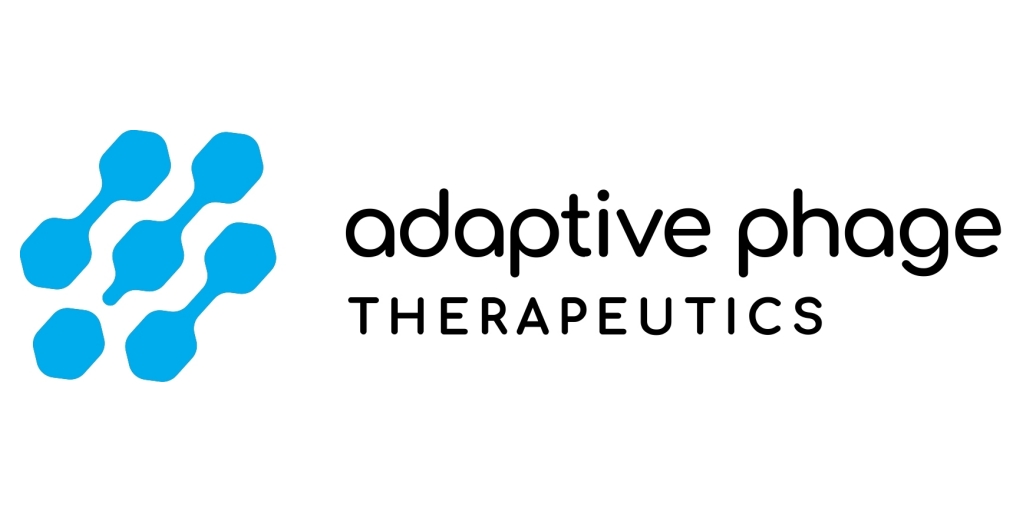 GAITHERSBURG, MD., May 11, 2021 – Adaptive Phage Therapeutics (APT), a clinical-stage biotechnology company dedicated to providing therapies to treat infectious diseases, today announced that the company has closed a $40.75 million Series B investment round led by Deerfield Management Company. Also joining the Series B round are existing investor Mayo Clinic and an additional undisclosed institutional investor. Proceeds of this financing will be used to accelerate clinical development of PhageBank™ phage therapies as well as for general corporate purposes.
APT's PhageBank™ technology is a growing collection of hundreds of bacteriophage, collectively providing broad spectrum coverage against six of the highest priority multi-drug resistant bacterial pathogens.  APT plans to use the proceeds from this Series B financing to fund the company's clinical-stage therapeutic programs in prosthetic joint infection (PJI) and diabetic foot osteomyelitis (DFO), as well as for general corporate purposes including further development of a proprietary PhageBank™ Susceptibility Test (PST) to rapidly identify phage therapies required to eradicate specific bacterial infections.
"We are thrilled to announce this financial support from Deerfield, a prominent healthcare-focused investment firm, and Mayo Clinic, one of the world's most distinguished nonprofit healthcare organizations," said Greg Merril, APT's CEO and Co-Founder. "This Series B funding round positions APT to continue aggressively expanding PhageBank's coverage spectrum and advancing our clinical development pipeline of new therapeutic options to patients suffering from bacterial infections, many of which are notably difficult-to-treat multi-drug resistant and/or biofilm-mediated infections."
"Adaptive Phage Therapeutics is taking a unique and differentiated approach to the therapeutic treatment of bacterial infections," said Jonathan Leff, Partner at Deerfield. "We are excited to be working with the APT team on their unique PhageBankTM platform, which has shown significant promise in patients treated for a variety of multi-drug resistant bacterial infections under compassionate use allowance from the FDA. Together, we believe we can bring PhageBank™ therapy into the mainstream, and work to solve one of the key challenges facing modern medicine, the growing problem of antibiotic-resistant bacteria."
Adaptive Phage Therapeutics, Inc.
Adaptive Phage Therapeutics is a clinical-stage company advancing therapies to treat multi-drug resistant infections. Prior antimicrobial therapeutic approaches have been "fixed," while pathogens continue to evolve resistance to each of those therapeutics, causing those drug products to become rapidly less effective in commercial use as antimicrobial resistance (AMR) increases over time.
APT's PhageBank™ approach leverages an ever-expanding library of bacteriophage (phage) that collectively provide evergreen broad spectrum and polymicrobial coverage. PhageBank™ phages are matched through a proprietary phage susceptibility assay that APT has teamed with Mayo Clinic Laboratories to commercialize on a global scale.
APT's technology was originally developed by the biodefense program of U.S. Department of Defense. APT acquired the world-wide exclusive commercial rights in 2017. Under FDA emergency Investigational New Drug allowance, APT has provided investigational PhageBank™ therapy to treat more than 40 critically ill patients in which standard-of-care antibiotics had failed.
For more information, visit http://www.aphage.com.
About Deerfield
Deerfield is an investment management firm committed to advancing healthcare through investment, information and philanthropy.
For more information, please visit www.deerfield.com
Adaptive Phage Therapeutics
Investor Relations:
Gilmartin Group, LLC.:
Laurence Watts
619-916-7620
Deerfield Contact:
Deerfield Management Company
Karen Heidelberger
212-583-7298