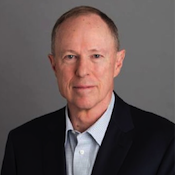 Dendy Young is the Managing Partner of McLean Capital, LLC, a private equity firm, based in McLean, VA, which focuses on investments in early-stage companies. He is also a member of Blu Venture Investors, an angel investment company that supports early stage companies in the Washington DC area through which he has built a portfolio of more than 15 young companies.
From January 1996 to 2006, Mr. Young was CEO of GTSI Corp. (NASDAQ: GTSI), a $1+ billion enterprise services and solutions provider. Prior to GTSI, Mr. Young served as Founder and Chief Executive Officer of Falcon Microsystems, Inc. and, before that, Falcon Systems, Inc.
Mr. Young serves on the Executive Committee of the Northern Virginia Technology Council (NVTC). He is Chairman of the Board of Qlarion, Inc., which provides innovative business analytics to government, and Perthera Inc. which is commercializing a breakthrough in personalized medicine for patients with cancer, and is on the Board of Public Relay, Inc.
Mr. Young lives in McLean, Virginia with his wife, Andrea. He holds a SB in Electrical Engineering and Computer Science from the Massachusetts Institute of Technology and an MBA from the Harvard Business School.