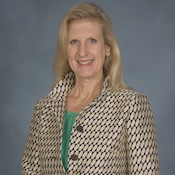 Bethany Mancilla is Vice President of Business Development for Amgen. Since joining Amgen in April 2012, Ms. Mancilla has led the execution of a number of deals including the clinical immuno-oncology collaboration agreements with Merck for Imlygic and Blincyto, the Novartis collaboration in neuroscience for Alzheimer's disease and migraine and the multi-product cardiovascular collaboration with Servier. In 2015, she was selected as a top woman at Amgen who has helped build the company's history and is impacting the world of science, technology, and business.
Prior to joining Amgen, Ms. Mancilla served as the Vice President of Business Development and Alliance Management for Micromet from April 2010 to March 2012. During this time she was responsible for negotiating the multi-target BiTE® immune-oncology antibody collaboration with Amgen which led to the acquisition of Micromet by Amgen.
From February 2008 until March 2010, Bethany was the Vice President of Business Development and Licensing for PharmAthene a developer of biologics and vaccines for the biodefense and emerging infectious disease markets. Prior to joining PharmAthene, Bethany was the head of Business Development for Gene Logic. During her ten year span with the company she spear-headed several multi-million dollar partnerships with major pharmaceutical companies including Pfizer, Roche, Wyeth, Lilly, Organon, Solvay and Abbott.
Ms. Mancilla began her career as the Director of Business Development for BCM Technologies, the for-profit subsidiary of Baylor College of Medicine, where she was involved in the creation and financing of four start-up biotechnology companies. Ms. Mancilla received an M.B.A. from the University of Houston and a B.A. from the University of Colorado.