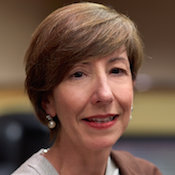 Barbara Lopez Kunz is a healthcare executive inspired by socially-responsible organizations, such as the Drug Information Association (DIA), where she is currently the President & Global Chief Executive. Barbara has transformed DIA, helping the organization to further its mission of inspiring knowledge creation for the development of safe, effective, and accessible patient therapies.
In a previous role as President of the Global Health and Life Science Business of Battelle, Barbara executed strategies to deliver the fastest growth in the organization's history. Prior to Battelle, she held leadership roles at Thermo Fisher Scientific, ICI, DuPont, and PPG Industries. Barbara brings a multicultural, global perspective to her assignments, having worked in diverse markets spanning the Americas, Asia, and Europe. She started her career as a research scientist, an endeavor that resulted in her holding 14 patents.
Barbara has pursued her passion for children's health by serving on the boards of a variety of public and not-for-profit organizations. Her current board assignments include chairing the board of Children's National Research Institute and serves as a director on the boards of Children's National Medical Center and Aptevo Therapeutics.
Barbara holds a Master of Science degree in Polymer Science from the University of Akron and is an alumna of the International Executive Program of the European Institute of Business Administration (INSEAD) in Fontainebleau, France.