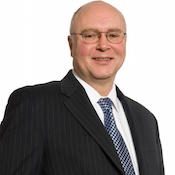 Dr. Jim Jackson is a senior vice president and the chief scientific officer for Emergent Biosolutions, a position he has held since 2008. From 2011 through 2015 Dr. Jackson also served as Head, Vaccines and Therapeutics Development Group located in Seattle as part of Emergent's Biosciences Division. Since coming to Emergent in 2003, Dr. Jackson has held several management positions including: vice president, technical support and vice president commercial products development. Joining Emergent through the acquisition of Antex Biologics Inc., a biotechnology company focused on vaccine and anti-bacterial drug discovery and development, Dr. Jackson served as president, Antex Biologics Research and Development Corporation from 2004 to 2006. While at Antex Dr. Jackson led the company's R&D programs in enteric, respiratory and STD vaccine development as vice president research and development; and as the senior director, molecular biology.
Prior to Antex Dr. Jackson was with W.R. Grace & Co at its corporate research center in Columbia, MD from 1987 to 1994, working on a variety of projects including novel enzyme engineering and expression for the production of specialty chemicals, animal therapeutics/vaccines for the agricultural market and nucleic acid-based diagnostic technologies. As a post-doctoral fellow at Exxon's Research & Engineering Center, Dr. Jackson's research was directed toward understanding the genetics and biochemistry of energy harvesting and transduction in photosynthetic bacteria.
Over his 30 year career in science and product development, Dr. Jackson has published numerous research papers and holds 37 patents. Dr. Jackson received his Ph.D. in Microbiology from the University of Georgia and a B.A. in Microbiology/Biochemistry from the University of Tennessee.