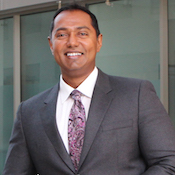 As Chief Medical Officer for Pediatrics and Special Populations at the U.S. FDA CDRH, Vasum provides executive and clinical leadership on Center policies and initiatives associated with medical devices intended for use in pediatric and special populations. He is the Center's senior clinical expert on pediatrics and pediatric medical device issues. He leads systems development to facilitate internal and external innovation and synergy that enhances the ability of the Center and the Agency to optimally meet the medical device needs of historically underserved populations.
Prior to joining the FDA, Vasum was the Joon Park MD Endowed Chair in Medical Excellence and Chief of Pediatric and Adult Congenital Cardiology at Texas Tech University Health Sciences Center (TTUHSC). With appointments in both the Departments of Pediatrics and (adjunct) Internal Medicine, he provided full spectrum cardiovascular critical care and outpatient services. He helped develop the TTUHSC Clinical Research Institute, promoting patient-oriented translational and outcomes research, and was inaugural faculty of the Department of Public Health, assisting in development of the curricula offering unique training in rural health.
Vasum is triple-board certified in Pediatrics, Pediatric Cardiology and Adult Congenital Cardiovascular Disease. He completed his undergraduate and graduate degrees at Yale University and the Yale School of Medicine Department of Epidemiology and Public Health, his MD at the University of Vermont College of Medicine, Residency at Yale-New Haven Hospital/Yale School of Medicine and Fellowship and Senior Fellowship at Children's Hospital Boston/Harvard Medical School.