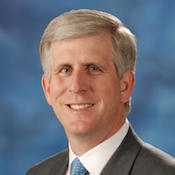 Todd Stottlemyer leads the 117-acre Inova Center for Personalized Health campus, which includes the Inova Schar Cancer Institute and the Inova Translational Medicine Institute. Stottlemyer also provides executive leadership for Inova's research efforts, the Inova Strategic Investment Initiative (venture fund), the Inova Personalized Health Accelerator, Inova's real estate, and government relations.
Stottlemyer was previously CEO of Acentia, LCC, a private equity backed provider of information technology solutions. Before Acentia, Stottlemyer served as CEO, CFO, and as a member of the executive management teams of three technology companies, two of which were private equity backed and two were publicly traded. Stottlemyer also served as CEO of the National Federation of Independent Business, the nation's largest business association, and as President of McGuireWoods Consulting.
Stottlemyer has been recognized by Washington Smart CEO magazine as one of their 20 "Most Admired CEOs" in the Washington, DC region; by Washingtonian magazine as one of the Washington, DC region's top 100 Tech Titans; and by Virginia Business magazine as one of the 50 "most influential Virginians."
Stottlemyer has served on numerous corporate (publicly traded and private equity and venture backed) and civic boards, including serving as Chair of the Northern Virginia Technology Council (NVTC) and as Chair of the Northern Virginia Chamber of Commerce. Stottlemyer currently serves as Rector (chair) of The College of William & Mary.
Stottlemyer earned his B.A. from The College of William & Mary and a J.D. from the Georgetown University Law Center.