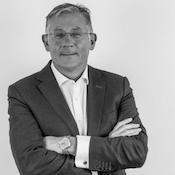 Shaun Grady has global responsibility for Business Development Operations at AstraZeneca, leading the company's transaction execution, due diligence and Alliance and Integration Management function including externalisation, licensing and partnering, M&A, and divestments.
Shaun was appointed to his current role in 2013 with the creation of the Global Product and Portfolio Strategy (GPPS) unit. Prior to this, he was Vice President, Strategic Partnering & Business Development (2010-13) and Vice President, Corporate Business Development (2006-10).
Shaun originally joined ICI as an attorney and held positions in the pharmaceuticals, petrochemicals, and legal departments. Following the demerger from ICI, he was appointed Assistant General Counsel, Corporate for Zeneca.
Shaun worked on the merger of Astra and Zeneca, the merger of Zeneca Agrochemicals with Novartis Agribusiness to form Syngenta, and the creation of Avecia. Shaun also worked on the acquisition of Cambridge Antibody Technology (CAT), led the acquisition of Amylin, and subsequent buy-out of Bristol-Myers' Squibb's interest in the Diabetes Alliance. In addition, he has spent time in the US business managing the legal function and also completed a two year secondment to HR, leading a global People Strategy change project.
Shaun is a Fellow in Entrepreneurship at Cambridge Judge Business School and is a member of the Board of Cambridge United Football Club.
Based in Cambridge, Shaun enjoys rugby and soccer, and occasionally turns his hand to sports writing.