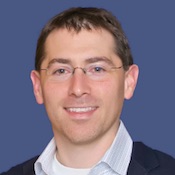 Jacob Vogelstein is a Partner and Portfolio Manager at Camden Partners Holdings, LLC, where he focuses on Camden's seed strategy. He currently serves on the board of Cage Pharmaceuticals, eNeura, Mind-X and Metabolon. Prior to joining Camden, Jacob was a founding partner of the seed-stage venture capital firm Gamma 3, LLC, and a Program Manager at the Intelligence Advanced Research Projects Activity, where he made investments in high-risk, high-reward research to benefit the US Intelligence Community. Earlier in his career, Jacob served on the faculty at Johns Hopkins University, in both the Applied Physics Laboratory and the Whiting School of Engineering.
Jacob has received widespread recognition for his innovative work in biomedical engineering over the past decade.  In 2017, he was awarded the Presidential Early Career Award in Science and Engineering.  He has been an invited speaker for diverse audiences ranging from BBC News to the President's Council of Advisors on Science and Technology, has authored over 50 peer-reviewed publications, and has three patents pending in the fields of neuroprosthetics and brain-machine interfaces.
Jacob earned a Sc.B. degree from Brown University in Bio-Electrical Engineering and a Ph.D. degree in Biomedical Engineering from the Johns Hopkins University School of Medicine.