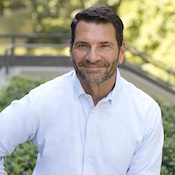 Pete is a Managing Director of Inova Strategic Investments and the Inova Personalized Health Accelerator. He is responsible for leading Inova's innovation investing and development for companies that are transforming Inova and global health services.
Pete has been a corporate officer for publicly traded high technology companies, founder of a venture funded startup company and CEO of a non-profit innovation investment and consulting company. Prior to joining Inova Strategic Investment, Pete served as the CEO of the Center for Innovative Technology (CIT) where he created CIT's seed stage venture funds, a portfolio of three funds containing over 135 companies, CIT's research commercialization fund, a portfolio of 90 research investments and MACH37, the first cyber security accelerator.
Prior to CIT, he was Senior Vice President of ArcSight during company formation and product development. In 2008, ArcSight completed a successful initial public offering and was sold to Hewlett Packard for $1.5 billion. Prior to ArcSight, Pete was COO of Condor Technology Solutions (CNDR), a web and e-business solutions provider acquired by CACI. Pete began his career at Electronic Data Systems (EDS), where he worked for 20 years. His last position at EDS was Vice President and General Manager, responsible for large-scale integration, software development, and outsourcing services for government clients. Pete has 36 years of experience in the technology industry with experience in all aspects of business operations, including market assessment, strategic planning, product development, sales, merger and acquisition, and operational delivery.
Mr. Jobse is a graduate of the Indiana University of Pennsylvania.