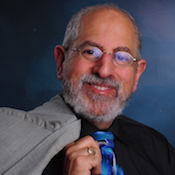 Merom Klein, PhD has 20+ years of experience advising innovation leaders how to build team and enterprise cultures that get innovation initiatives funded, get traction and accelerate career growth – with leadership practices that build inventive thinking in diverse cross-functional and cross-enterprise alliance teams and that reduce the impact of risk-averse defensive thinking traps.
Dr Klein is a business psychologist who has built assessments, simulations and inventive thinking tools – so angel investors, VCs and corporate portfolio managers can assess and build the potential of entrepreneurs and corporate innovation leaders to rally support and optimize value-creation in Volatile Complex Uncertain Adverse (VUCA) conditions.
Dr Klein is a serial entrepreneur who is a Principal with Courage Growth Partners, a human capital consultancy that plays an advisory and mentoring role with angel investment groups like Keiretsu Forum Mid Atlantic and iAngels, VCs like The Group, a Canadian investment fund that distinguishes itself by developing the leadership capabilities of their portfolio companies to accelerate growth, innovation accelerators like LifeArc (MRC-T) and ITI and corporate innovation portfolios at VWR, Johnson & Johnson, Solvay/Abbott, GSK, Third Rock companies, Sanofi, Merck, and Pacira. Dr Klein earned his PhD in Business Psychology at Temple University and has authored several books on Courage and Innovation Leadership.