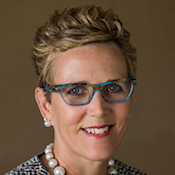 Margaret is a Managing Director with Monitor Deloitte based in Arlington. She brings a variety of health and translational medicine experience to the work at Deloitte. At Deloitte, she is focused on bringing forward her patient engagement experience to our regulatory practice, our non-profit work and commercial life sciences engagements. She is also focused on strengthening nonprofit organizations through strategic planning and organizational assessments. As a member of the NIH account at Deloitte, she is actively looking at how trends in the biomedical research system are impacting our nation's largest funder of medical research.
She joined Deloitte from FasterCures, a Washington DC-based center of the Milken Institute, whose focus is to save lives by speeding up and improving the medical research system by focusing on spurring cross-sector collaboration, cultivating a culture of innovation and engaging patients as partners. While at FasterCures, she oversaw programs advancing the science of patient input, examining the metrics for collaborative research models, and policy related to federal research and regulatory. She has also worked on public health issues at the American Public Health Association and in a consulting capacity for HIV/AIDS programs. She began her career at the Congressional Office of Technology Assessment looking at the impact of biotechnology and genetics on the economy and society.
Margaret is a founding board member and past-president of the Alliance for a Stronger FDA, was a founding member of the NIH National Center for Advancing Translational Sciences Advisory Council and the Cures Acceleration Network Review Board. She served previously on the National Health Council board, United for Medical Research, the Food and Drug Administration's Science Board, Science Looking Forward Committee, and the National Academy of Medicine's Forum on Drug Discovery, Development and Translation. She currently serves on the Board of Act for NIH, the Asthma and Allergy Foundation of America, and the Melanoma Research Alliance.