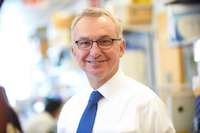 José joined AstraZeneca in January 2019 as EVP, R&D Oncology and is responsible for Oncology R&D from discovery through to late-stage development. Prior to this he served as the Physician-in-Chief at Memorial Sloan Kettering Cancer Center (MSK) and Professor of Medicine at Weill Cornell Medical College from 2012 to September 2018. Under his leadership, MSK became the leader in early-phase clinical trials for cancer therapies and diagnostic genetic sequencing.
José is an international thought leader for innovation in cancer care and clinical research, and his research and clinical achievements have led to the approval of a number of life-saving cancer therapies, and to the creation of a number of biopharmaceutical companies.
Prior to joining MSK, José was Chief of the Division of Hematology/Oncology and Associate Director at the Massachusetts General Hospital Cancer Center and Professor of Medicine at Harvard Medical School. He was also the Chairman of Medical Oncology and Founding Director of the Vall d'Hebron Institute of Oncology in Barcelona, Spain. As a recent past President of the American Association for Cancer Research (AACR), he worked collaboratively with the AACR Board of Directors and the AACR membership to further the mission to cure cancer through research.
José is an elected member of the National Academy of Medicine, the American Society of Clinical Investigation, the Association of American Physicians, and an elected Fellow of the AACR Academy. He is a past President of the European Society for Medical Oncology, where he was recently awarded their Lifetime Achievement Award, and a past member of the Board of Directors for the American Society of Clinical Oncology and AACR.