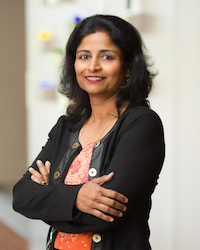 Gayatri Varma is Director of Partnering & Strategy at AstraZeneca where she leads business
development activities focused on respiratory biologics. She engages in partnering activities including
with industry, academia and government.
Prior to joining AstraZeneca, Gayatri was the Executive Director of the Office of Technology
Commercialization at the University of Maryland. There she oversaw the licensing and patenting
activities and was involved in developing and amending policies, as well as initiating new programs. She
started her career at the University of Maryland as a licensing associate in the life sciences.
Gayatri serves as a Board of Directors for AUTM and is on the Life Sciences Sector Leadership committee
for LES.