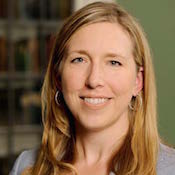 Christy Wyskiel is Senior Advisor to the President of Johns Hopkins University on matters of innovation, commercialization, and entrepreneurship. In her role, she heads up Johns Hopkins Technology Ventures, which includes technology transfer, the FastForward innovation hub, and commercial partnerships for the University.
Christy is a seasoned entrepreneur, investor, and ecosystem builder with 20+ years of experience primarily focused on the life sciences and healthcare industries. Prior to her role at Johns Hopkins, Christy co-founded two Baltimore based start-ups and served as a formal and informal advisor to many others. Prior to that, Christy worked as an institutional investor where she had a long track record of successful investing in both public and private companies.
In 2016, Christy was appointed by Governor Hogan to the Maryland Life Sciences Advisory Board. She co-chairs Baltimore's Next Generation Investing Event, an event she co-founded which has raised over $500,000 for three K-8 education initiatives in Baltimore City. In 2014, she was added to the Board of Trustees of the Abell Foundation and the Baltimore Development Corp.
Christy graduated from Williams College (BA) and at New York University (MBA).   She lives in Baltimore with her husband, two children, and a cat, and in her free time, she enjoys biking, yoga, and golf.