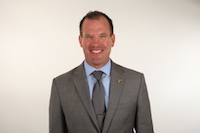 Prior to the Department of Commerce, Bret Schreiber has worked for over 20 years in the field of government and community relations, driving policy and economic development initiatives and developing strong ties to local, state and national legislators. As Senior Director for the Office of BioHealth and Life Sciences, Schreiber is working to establish Maryland as the Nation's premier ecosystem for the BioHealth and Life Science industry.  Previously, as Director of Education and Innovation for the Maryland Department of Commerce, Schreiber worked with Maryland's Colleges and Universities, and the State's innovators, entrepreneurs and startups to leverage their economic potential and impact on Maryland's economic vitality.
Schreiber also served as Director of Governmental and Community Relations for Harford County Maryland,  Vice-president of the Maryland Independent College and University Association (MICUA), leading policy development and involved in organizational operations for Maryland's 12 independent nonprofit higher education institutions, and also spent 10 years working with the Johns Hopkins Institutions helping to plan, implement, and manage the Johns Hopkins Institutions' strategic State agenda with elected and appointed officials.  
A Harford County resident, Mr. Schreiber holds a degree in political science from Johns Hopkins University.